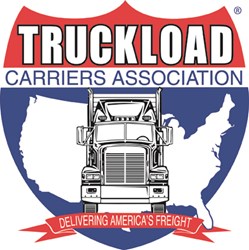 The Wreaths Across America cause is important to us because we're a family-owned company and big supporters of the military.
Alexandria, Virginia (PRWEB) December 13, 2013
In the midst of the hustle and bustle of the holiday—the busiest time for a trucking company—Truckload Carriers Association (TCA) members and other trucking companies have made it possible for hundreds of thousands of fresh remembrance wreaths to be placed upon veterans' graves at Arlington National Cemetery and at nearly 900 other cemeteries nationwide on December 14, 2013, known as National Wreaths Across America Day.
The notion of honoring veterans and their families in this manner began in 1992, when Morrill Worcester, owner of the Worcester Wreath Company of Harrington, Maine, discovered a surplus of unsold wreaths toward the end of the year. By donating them to be placed on veterans' gravestones, he launched what has now become an annual tradition requiring the assistance of many trucking companies to make it happen. The entire effort grew into Wreaths Across America (WAA), a non-profit organization that was created to "remember, honor, and teach" about the service and sacrifices of veterans.
"Wreaths Across America Day is an enormous effort that depends heavily on trucks, trailers, professional drivers, a dispatching system, and plenty of wreath sponsorships," said Karen Worcester, Morrill's wife and the executive director of WAA. "We know that the cost of operating trucking equipment is expensive—especially fuel. Yet, since TCA and its members got involved, we've been able to place wreaths at 900 veterans' cemeteries across the nation—up nearly 100 locations from last year. That's more than 500,000 soldiers that will be honored this year with a remembrance wreath. It's an amazing commitment that truly shows what values the trucking industry stands for."
A few weeks before National Wreaths Across America Day, TCA called upon its members to ensure that all needs would be met. The response was extraordinary. Trucks, trailers, and professional drivers were offered readily (a list of participating motor carriers can be found at http://www.truckload.org/2013-Volunteer-Trucking-Companies). One carrier that could not provide a truck offered to pay for one from another company, including its fuel. TransCore of Beaverton, Oregon, a TCA member, made a special effort to call trucking companies to recruit volunteers. Other industry organizations, like Alexandria, Virginia-based Transportation Intermediaries Association, also a TCA member, sent out pleas for help to their own membership.
Dispatching assistance was also provided. ITS Dispatch of Newmarket, Ontario, donated software that has been used by TCA for the second year in a row. TCA member JagTrux, Inc., of Elizabethtown, Pennsylvania, helped rearrange some routes to ensure that loads were planned in the most cost-effective and logical way. Rita Germak Swisher, safety manager at JagTrux, also made personal phone calls and wrote e-mails to trucking colleagues and groups asking for support.
"We're a small, 35-truck company, and we participate in Wreaths Across America every year," she said. "The cause is important to us because we're a family-owned company and big supporters of the military. My cousins are military, and my grandfather was, too. Some of our drivers are veterans, or their families, are. You don't have to be a large company to show your respect. We buy a wreath for anyone in our company who requests one for themselves or a family member. It's our way of honoring those who have given so much to this country."
Truckloads of wreaths were broken down into smaller shipments at Midwestern cross-docking operations set up by TCA-member Tennant Truck Lines, Colona, Illinois, and Arrow Truck Sales, Kansas City, Missouri.
At Arlington National Cemetery, the opening ceremony, scheduled to begin at 9:30 a.m., will take place on a custom-built, mobile stage—a curtain-sided flatbed trailer—provided by Gary Salisbury, former TCA chairman and the president and CEO of Fikes Truck Line, Hope, Arkansas. The agenda includes two songs by Lindsay Lawler, the spokesperson for TCA's Highway Angel program and a country singer known for patriotic, pro-trucking lyrics. And throughout the day, participants will be able to identify core volunteers, numbering about 300, thanks to vests donated by the Commercial Vehicle Training Association, a TCA member based in Springfield, Virginia.
Next year will be Arlington National Cemetery's 150th anniversary. To help honor all who rest there with a wreath, please make a donation at http://www.TruckloadOfRespect.com.
Photos: Click here.
# # #
TCA is the only national trade association whose collective sole focus is the truckload segment of the motor carrier industry. The association represents dry van, refrigerated, flatbed, and intermodal container carriers operating in the 48 contiguous states, as well as Alaska, Mexico, and Canada. Representing operators of more than 200,000 trucks, which collectively produce annual revenue of more than $20 billion, TCA is an organization tailored to specific truckload carrier needs.
Wreaths Across America is a 501(c)(3) nonprofit organization founded to continue and expand the annual wreath-laying ceremony at Arlington National Cemetery begun by Maine businessman, Morrill Worcester, in 1992. The organization's mission, Remember, Honor, Teach, is carried out in part each year by coordinating wreath-laying ceremonies on the second Saturday of December at Arlington, as well as hundreds of veterans cemeteries and other locations in all 50 states and beyond. For more information, to donate or to sign up to volunteer, please visit http://www.WreathsAcrossAmerica.org.