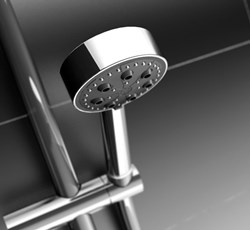 London (PRWEB UK) 15 December 2013
Kelda Showers, a world leader in air powered shower technology, has been awarded an Energy Entrepreneurs Fund grant by the Department of Energy and Climate Change (DECC) to design and develop Mixer and Digital Mixer shower products utilizing Kelda's new innovative water and energy-saving 'Eco Power Shower' technology. Kelda has developed a unique shower technology with an air-boosted spray for use with existing water heating systems that creates the most efficient and powerful shower, minimizing energy and water use.
Energy and Climate Change Minister Greg Baker said: "Innovation is vital for the move towards a low carbon economy and it's great to see so many entrepreneurs rising to the challenge. I wish the winners every success with their projects." "This is great for Kelda Showers," said Chris Jackson, CEO of Kelda Showers. "The selection of Kelda Showers technology for this award enables us to bring to market radical shower innovation that is capable of dramatically boosting a shower-spray and which can halve water and energy shower costs."
Jacob Tompkins, a Director at Waterwise, commented, "Waterwise is pleased to recommend Kelda's 'Eco Power Shower', which saves water, energy and the environment, whilst providing the experience of a power shower. It is exciting to see the development of this new technology, which enables us all to be water efficient without making any sacrifices in experience. The key to water efficiency is reducing waste not restricting use."
The funding is part of a £35m fund announced in April 2012 by DECC, and aims to support energy efficiency technologies such as building-control systems, advanced lighting systems, and space heating and cooling technologies, alongside power generation and energy storage technologies including fuel cells, biomass boilers and heat pumps. Winning designs range from smart energy-demand controls and innovative waste management solutions, to innovative ideas for installing insulation.
Kelda Showers Ltd, http://www.keldashowers.com, was started to pursue a radical breakthrough in showering technology following the discovery of a new way to combine air and water. The engineers at Kelda Shower have created a unique, patented shower technology to provide the minimum use of shower resources without asking consumers to compromise on showering performance.