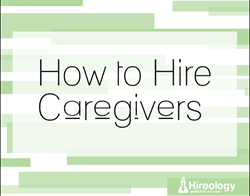 However, typical hiring processes don't always provide hiring managers with enough insight to make a qualified hiring decision. -- Liz DeMar, Hireology account manager
Chicago, IL (PRWEB) December 13, 2013
Hireology, the leading selection management platform for distributed enterprises, has announced the publication of their latest eBook, "How to Hire Caregivers." By highlighting the most effective hiring strategies, the guide aims to assist managers in selecting the most qualified home health care professionals.
Providing a step-by-step look at effective hiring processes,"How to Hire Caregivers" examines the most efficient approaches to sourcing candidates, conducting interviews, and verifying the candidate's credentials through background checks and skills assessments. The eBook also delves into the details of "good interview" questions as well as the answers you should be looking for in each candidate.
"When someone makes the decision to bring a caregiver into their home, they are expecting someone who is highly qualified, compassionate, and experienced," said Liz DeMar, Hireology's account manager. "However, typical hiring processes don't always provide hiring managers with enough insight to make a qualified hiring decision. That's why we put together this eBook - to help hiring managers better identify the best candidates through a thorough yet efficient hiring process."
To download, "How to Hire Caregivers," please click here. For more information on hiring best practices, please visit The Hireology Blog.