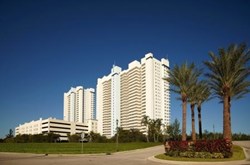 One Fifty One at Biscayne will afford buyers with a unique opportunity to purchase on the ground floor of what will be a significant long-term development project that promises to reinvigorate the City.
North Miami, FL (PRWEB) December 13, 2013
iStar Residential, a division of iStar Financial, has launched sales of 160 condominium residences at One Fifty One at Biscayne, formerly The Oaks at Biscayne Landing, in North Miami. iStar acquired the units in foreclosure and is now repositioning the project, which is located in the $1 billion Biscayne Landing Master Planned Community being developed by The LeFrak Organization. iStar Residential has retained DevStar Realty, a wholly owned subsidiary of The DevStar Group, to manage the repositioning and sales of its remaining inventory.
One Fifty One at Biscayne, located just off Biscayne Boulevard and Northeast 151st Street in North Miami, are two unique residential towers that offer spectacular views of the Sunny Isles skyline, area natural preserves and the Atlantic Ocean. Like many of the project's residences, the majority of the 160 units are currently being rented out. Buyers who purchase units have the option to take residency, or keep the tenants in place. Sales are expected to begin in the next month with prices starting at $240,000.
"We think iStar's offering will appeal to a broad spectrum of buyers," said George Helmstetter, a principal of The DevStar Group. "The price point is attractive for first-time, entry-level and value-focused homebuyers. Once the planned amenities are completed and LeFrak's master-planned community comes to fruition, the immediate neighborhood and the lifestyle of its residents will be completely transformed."
Market conditions are ideal for residential properties. Throughout the north Miami-Dade County area, white-collar workers and employees in the service sector are in need of affordable housing. Meanwhile, the medical school and other colleges at nearby Florida International University are increasing the demand for local housing.
The diverse unit offering includes spacious two- and three-bedroom residences averaging 1,800 square feet. All residences feature open designs, with great rooms, kitchens and living areas that spill out to the balcony, making them ideal for entertaining. Finishes include opulent marble baths and gourmet kitchens with Italian-designed cabinetry and granite countertops. One Fifty One at Biscayne is planned to receive upgrades to its exterior facade, landscaping and common areas, and a new community complex that will house a pool, locker rooms, a clubhouse, gym and a tennis court. The community is 10 minutes from the beach, equidistant from the Miami and Fort Lauderdale-Hollywood international airports, and a short commute to major South Florida business centers.
"North Miami was largely omitted from the last development cycle. This time is different," said Anthony Burns, a principal of The DevStar Group. "One Fifty One at Biscayne will afford buyers with a unique opportunity to purchase on the ground floor of what will be a significant long-term development project that promises to reinvigorate the City."
DevStar principals have been involved in re-positioning numerous iStar Residential projects in South Florida since 2009. More specifically, Burns and Helmstetter successfully repositioned the 47-story Paramount Bay in Miami's Edgewater District and Ocean House South Beach.
# # #
About iStar Residential:
iStar Residential is one of the largest investors in luxury condominium, multifamily and master-planned residential developments throughout the United States, having financed and invested in $10 billion of residential projects since 1993. iStar Residential's portfolio has included interests in over 18,000 condominium units in the nation's top markets and 65,000 acres in master planned communities having the potential for an estimated 50,000 single family and multifamily units. The Company's unique, fully-integrated platform extends from property entitlement and development to construction, bridge and long-term financing through asset servicing, property and portfolio management. iStar Residential is not affiliated with The LeFrak Organization.
About The DevStar Group:
The DevStar Group is a development, sales and investment firm headquartered in Miami, FL that focuses on the high-end residential condominium market. DevStar principals have spearheaded the redevelopment and sales efforts of some of South Florida's most exciting luxury condominium projects including the 47-story Paramount Bay located in the Edgewater District of Miami and Ocean House South Beach, a collection of boutique oceanfront residences located in the exclusive South of Fifth neighborhood. The principals of The DevStar Group are Anthony Burns and George Helmstetter.
MEDIA CONTACT: Laura Burns or Todd Templin of Boardroom Communications. Call 954-370-8999 or email lburns(at)boardroompr(dot)com or ttemplin(at)boardroompr(dot)com.