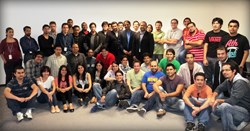 "Movements like the Hour Of Code and the vision of Code.org is something that strongly resonates with us and the way we see the future of technology and society in general." - Anurag Kumar, CEO of iTexico
Austin, Texas (PRWEB) December 13, 2013
"Computer software and new technologies are the way of the future. Anybody that learns how to program and is able to create software that can potentially change the world. This is truly an amazing skill to learn and we have seen that the right mindset towards facing the challenge of education is key for creating a better future for generations to come. We are happy to support Hour Of Code and spread the word on how everyone can learn how to program and create great things with that knowledge," said Abhijeet Pradhan, CTO of iTexico.
iTexico, a nearshore mobile development company based in Austin has announced that they are supporting the Hour Of Code, an online movement created by Code.org with the goal of creating awareness on how comptuer programming can be learned by everyone throughout the world in a very easy way.
"The Hour Of Code's ultimate goal is to create a more tech savvy younger generation that leverages knowledge from their classroom and uses that to create useful tools for the society. We at iTexico are committed to supporting these young developers and programmers and give them the opportunity to use their skills to create amazing web and mobile applications. Our development center in Mexico is always looking for the best young talent to join forces with us and we've hired many young mobile developers that have shown amazing skills to create beautiful web and mobile apps. Movements like the Hour Of Code and the vision of Code.org is something that strongly resonates with us and the way we see the future of technology and society in general," said Anurag Kumar, CEO of iTexico.
In the United States, computer science is a top paying college degree and computer programming jobs are at 2x the national average. The same behaviour is being observed throughout other countries and continents all over the world. In Mexico, where iTexico's nearshore delivery center is located, top engineers are being sought by major companies that rely on Mexican talent to work on highly specialized jobs that will ultimately be consumed by national or international clients. iTexico currently employs more than 70 bilingual web and mobile app developers, testers, user experience and user interface designers as well as other staff members who deliver world-class web and mobile applications to clients in the USA.
"Having so many young web and mobile developers as part of iTexico's team is a constant reminder of how important it is to teach our young ones to code and create software programs. It doesn't matter if someone is a teenager or an adult, learning how to code is something that everyone can do and of course it's always better to start early and aim high. We are very proud of all the amazing things that our team is able to do and we believe that skills like these will become more and more important in the near future and that's why we need schools and government to do their part," said Guillermo Ortega, COO of iTexico and head of operations of iTexico in Mexico.
Besides iTexico's Founders Anurag Kumar, Abhijeet Pradhan and Guillermo Ortega, supporters of Code.org and the Hour Of Code include successful entrepreneurs from major technology services across the globe like Mark Zuckerberg, Founder and CEO of Facebook, Bill Gates, Founder of Microsoft, Jack Dorsey, Co-Founder of Twitter, actor Ashton Kutcher, singer Shakira, recording artist Will I Am, as well as sports stars, politicians, scientists, and many more.
For more information about the Hour Of Code and to support the movement please visit http://code.org/.
About iTexico
iTexico is a fast-growing Austin based company with offices in Silicon Valley and a software delivery center in Mexico that helps technology and publishing companies bring their solutions to market faster at lower costs and high quality. The company does this by providing world class cross platform mobile development, outsourced software services, extended teams and world-class training courses. iTexico currently serves a large number of clients across the US and employs highly experienced professionals in a delivery center located in Guadalajara, Mexico. Please visit http://www.itexico.com.