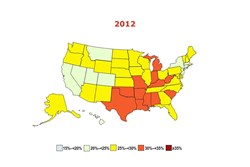 Having individuals working with a Lifestyle Health Coach is key to turning this epidemic around.
Healdsburg, CA (PRWEB) December 14, 2013
This weekend, Source Point Training (http://www.SourcePointTraining.com) is presenting a certification course on coaching tools and techniques for medical professionals from around the world pursuing their certification as Lifestyle Health Coaches. While everyone has their opinions on the impact "Obama-care" will have on our nation, everyone agrees that the state of healthcare and the many health challenges we as a nation are facing, are together spiraling downward. Yet, within the many components of the new health care plan, there is one that the coaching community knows can create sustainable positive impact on living healthy lifestyles.
With clear data now available, the medical community is in the early stages of embracing coaching patients on the benefits available to improve health versus the threat of health consequences for patients not following their doctor's recommendations. And the Academy of Anti-Aging Medicine is leading the way with offering the only academically accredited Lifestyle Health Coach certification currently available as part of their Annual World Congress on Anti-Aging, Regenerative and Aesthetic Medicine this weekend.
In a Forbes article focusing on employer sponsored wellness programs, they refer to having employees working with health coaches as "the secret sauce" for creating sustainable lifestyle changes. In their study of four mid-sized organizations with health-contingent wellness programs, they found that the annual paid claims per participating employee dropped to $2,269 as compared to the annual paid claims per non-participating employee of $6,187.
"Until we are able to better manage our health, the cost of healthcare will simply continue to rise. A key factor in better management of our health is a new paradigm in the doctor patient relationship. Patients need to take more responsibility for their lifestyles and the impact it has on their health. Having their medical professional working with them in a true partnership and with the support of various medical resources including a Lifestyle Health Coach, is key," says Barbara Fagan, President of Source Point Training. "I look forward to spending 3 full days with various medical professionals and introducing them to the key distinctions of coaching and the impact they can make in supporting their patients in taking greater ownership for their health."
Barbara Fagan has been training coaches for over 12 years, many of which have become independent health and wellness coaches. "As coaches, we know and see on a regular basis the sustainable impact that can be attained when a client is enrolled into a high level of ownership and accountability for the results they are creating in their life - including their lifestyle," Fagan continues. "Now having coverage for individuals to work with a health coach, there is more than hope; actually an expectation that the downward spiral will slowly begin to turn upward as more medical professionals and their patients partner together in ownership of improving and maximizing health."
In recent years, Source Point Training has seen a rise in the number of wellness professionals attending their Fundamentals and Mastery of Performance Coaching training to enhance the work they do with their wellness clients. "Whether you are a health conscious person and work to always maximize your health or you are someone with a chronic health condition, working with a Lifestyle Health Coach will provide individuals with greater results now and in the future," shares Fagan.
Contact us for more information at 800-217-5660, ext. 101.