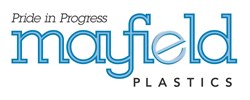 The combined entity will be among the largest custom thermoformers in the Northeastern United States
Sutton, MA (PRWEB) December 16, 2013
Mayfield Plastics was recently acquired by Jay Kumar, the owner of Universal Plastics, a custom thermoformer based in Holyoke MA. The acquisition will allow Mr. Kumar to continue to execute on his vision to find ways to add additional value to customers, grow the business and establish a stronger footprint in the custom plastic thermoforming space. The intention of this merger is to provide Mayfield with additional management, technical and financial support. Both Mayfield and Universal will continue to maintain their facilities, brand, employees and procedures.
Mr. Kumar plans to invest in Mayfield which ensures that Mayfield can continue to service customer needs and support existing business and any new business for years to come. The companies' combined capabilities will support greater productivity & capacity within custom thermoplastic manufacturing. Longer term, the combination is expected to provide a broader suite of product offerings and services to customers. The terms of the sale were not made public.
"I, along with my management team, believe that this merger strengthens both Mayfield and Universal Plastics. The combined entity will be among the largest custom thermoformers in the Northeastern United States and with greater scale, we are well-positioned to provide customers with top quality products and excellent service in meeting their thermoformed plastics needs. Specifically, this merger will benefit customers through our increased capacity in custom thermoforming, broader range of secondary services in trimming, and enhanced operational efficiencies & value added services. Everyone I've spoken to at both Mayfield and Universal is excited about this merger and to be working together to meet all of our customers' plastics needs. Above all, we value our relationships with our customers and are committed to maintaining and growing the value that we provide to them. Their success is our top priority," said Jay Kumar.
About Universal Plastics
Universal Plastics is a custom thermoforming company based in Holyoke MA with strong legacy of expertise in manufacturing thermoformed plastic parts of the highest quality with a distinct focus on customer satisfaction. Universal has been in business for over 45 years with a world class management team and currently serves customers in a variety of industries including aerospace, medical device manufacturers, transportation, consumer products, food packaging and electronic companies. For more information visit http://www.universalplastics.com
As a custom thermoforming manufacturer, Universal has made kayaks, air ducts for the Space Shuttle, all of the bus stop signs currently used in New York City and the bow of the submarines used by the Navy Seals. In 2008 they added a 30,000 square foot addition to their Whiting Farms Road building for a total of 100,000 square feet of production and office space. The company is ISO 9001 certified.
Universal Plastics has gross annual sales of approximately $12 million, employs 70 people and manufactures thermoforming plastics that include custom containers, protective covers and enclosures for many large companies including Pratt & Whitney, General Electric and BE Aerospace.
About Jay Kumar
Jay Kumar is a graduate of Cornell University and has worked extensively in the investment arena, at JPMorgan for ten years as a proprietary trader and most recently as Managing Principal at PAON LLC. Jay currently serves as President of Universal Plastics and Mayfield Plastics. In 2012, Jay Kumar acquired Universal Plastics from the Peters family, pledging to serve as an on-site manager alongside Joe Peters and grow the business. Over the past eighteen months under Jay Kumar's day-to-day leadership and Joe Peters' ongoing oversight, Universal Plastics has seen strong growth and expanded its business with key customers.
About Mayfield Plastics
Mayfield Plastics has played a prominent manufacturing role in Central Massachusetts for almost a half-century. In 1970 the former parent company of Mayfield Plastics, S.Ralph Cross and Sons, decided to transform its pattern making business. Founded in 1917 by S. Ralph Cross, his sons, Stanley and Gordon Cross, made a strategic decision to capitalize on their core competency, mold making, by coupling it with the manufacturing of custom made plastic parts using the emerging plastic forming process of thermoforming.
Ron Cross, Gordon's son became the president and opened the new facility in 2006. That tradition continues today while the company increasingly serves the custom plastic parts needs of a variety of industries including aerospace, medical device manufacturers, transportation and electronic companies. Mayfield Plastics is registered with the International Organization for Standardization (ISO), which certifies that the company pays strict adherence to the manufacturing processes it promises its customers. Working with the Manufacturing Advancement Center Workforce Innovation Collaborative, the Manufacturing Extension Partnership, and the Mass Development Corporation, Mayfield Plastics has assumed a leadership role in advancing careers in manufacturing today. For more information visit http://www.mayfieldplastics.com.