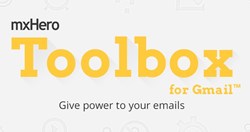 Total Track allows users to track not just the email but also engagement with the email contents.
San Francisco, CA (PRWEB) December 13, 2013
Recently launched, mxHero's Email Toolbox has accumulated over 10,000 active weekly users. Its powerful collection of tools, ranging from tracking email engagement to sending self-destructing messages, all from a single elegant user interface, has garnered it strong reviews from early adopters and online press (LifeHacker).
The most used feature of mxHero's Email Toolbox is Total Track. Total Track allows users to know when recipients open their emails. However, different from many other email tracking solutions, Total Track also allows tracking of engagement within the email. The sender is also notified when recipients click on links or access attachments.
mxHero's Toolbox extension includes other capabilities ranging from security with Self Destruct to email management with Send Later and Remind Me. Self Destruct allows users to send messages that are automatically destroyed after 5 minutes of being read. With Send Later users can set email delivery to a specific time and date in the future. Remind Me helps to deal with email overload by removing email from the inbox and having it return at a later time.
mxHero plans to significantly expand the Email Toolbox feature set in early 2014. A number of new capabilities will also be added through contributions from third parties. New integrations will include eSigning and cloud storage as well as further language packs.
Alex Panagides, CEO, mxHero:
"We're especially excited about our third party contributors. These are great companies with great products and their contributions will really enhance the Toolbox to the benefit of our user community."
Email Toolbox can be downloaded for free from the Chrome Webstore. It is currently available in English, Spanish and Portuguese language translations.
About mxHero
mxHero is an email enhancement platform and app store that gives companies, service providers and end users powerful new ways to control, use and analyze email. Apps developed for mxHero's platform work with any email management program, including Gmail and Microsoft Exchange. More than 5,500 companies with 350,000 users have added mxHero to their email capabilities.