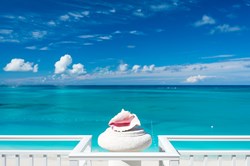 Providenciales, Turks and Caicos Islands, BWI (PRWEB) December 24, 2013
The Venetian on Grace Bay, one of Provo's newest luxury resorts, is ringing in 2014 with a gift to its guests - every 4th night free and every 7th night free starting January 5 through February 4th. Guests who book will also receive a $50 gift card to the gourmet restaurant, OPUS, highly ranked by Tripadvisor and Foder's and conveniently located right next door to The Venetian.
With the resort being open for only two years and already recognized as #4 of 41 resorts on Providenciales by TripAdvisor, the Venetian has earned a high reputation as an exclusive and intimate place to unwind, rejuvenate, and spend quality time with loved ones.
Beautifully conceived and elegantly appointed, the Venetian on Grace Bay is a serene and luxurious retreat. Situated beside its sister resort, The Tuscany Resort, on five acres of beautifully landscaped Grace Bay Beach, here you will experience breathtaking sunsets, calm waters and tranquil leeward beach front. These thoughtfully designed three bedroom, three and half bath oceanfront residences range in size from 2200 square feet to the Penthouse suites offering 3,100 square feet. The penthouse suites offer unprecedented views of the this breathtaking paradise.
Capture the best of Caribbean living today, give a "stocking stuffer" to a loved one and book your winter getaway at The Venetian on Grace Bay January 5 - February 5th.