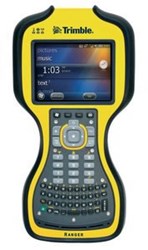 The Trimble product line is extremely popular among our customer base and is ideal for outdoor or service-related applications.
Chandler, AZ (PRWEB) December 16, 2013
Group Mobile, well known for carrying the top brands in rugged laptops, rugged tablet PCs, rugged smartphones, and rugged handheld computers is offering a significant year-end discount on the Trimble Ranger 3 rugged handheld. Customers who order before January 3, 2013 will save $750 off MSRP, plus receive a free Ranger 3 Standard Carrying Case.
"We are excited to present this offer on the Trimble Ranger 3 to our customers," said Group Mobile Marketing Director, Stephanie Kreitner. "The Trimble product line is extremely popular among our customer base and is ideal for outdoor or service-related applications."
The Trimble Ranger 3 outdoor rugged handheld computer has the features field service workers depend on, including a 30-hour battery, an alpha-numeric keypad and a high-resolution, sunlight-visible VA touchscreen display that presents graphics and maps in vivid detail. The Ranger 3 has many built-in capabilities that make it an ideal computing device for data collection and asset management. Other standard features include an ultra-fast 800MHz processor, 256MB RAM, and 8GB of Flash storage for amazing speed and performance. With integrated 3G GSM WWAN, Wi-Fi and Bluetooth®, the Ranger 3 handheld has the wireless capabilities to connect and communicate with nearby devices.
The Trimble Ranger 3 includes options such as WWAN wireless connectivity, an integrated 1D laser barcode scanner to track your assets, and a 5MP digital camera with flash and geotagging mode to capture color images in the field with their precise locations stored. In addition, the Ranger 3 rugged handheld meets or exceeds rigorous military standards for temperature extremes, drops, vibration, humidity and altitude. It carries an IP67 rating, meaning it is sealed against dust and it can survive immersion in up to a meter of water for 30 minutes.
The Trimble Ranger 3 can be ordered from Group Mobile today. To take advantage of this special offer on the Ranger 3, visit http://www.groupmobile.com/product.asp/sku=5188.
About Group Mobile
Headquartered in Phoenix, AZ, Group Mobile serves customers all over North America. Customers range from Fortune 500 companies and the U.S. Military, to local police/fire/ambulance, to small and mid-size businesses, to the frequent traveler that needs something more durable than a commercial, off-the-shelf computer. Group Mobile carries all the leading rugged computing brands. In addition, Group Mobile offers vehicle docking and mounting equipment from Gamber Johnson, Ram Mounts, Jotto Desk, and Havis/Ledco. To learn more about rugged computers and how they differ from commercial, indoor computers, check out the Rugged Computer Guide or visit us online at http://www.groupmobile.com.