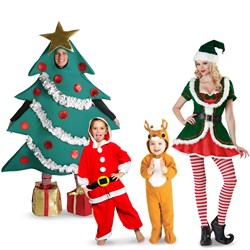 New Berlin, WI (PRWEB) December 13, 2013
The sounds of sleigh bells and reindeer grow ever-nearer as Christmas 2013 approaches. Retailers everywhere ready the halls for decking with holiday deals and merchandise, and leading online costume and party supplies retailer BuyCostumes.com prepares for the annual rush with a wide variety of Christmas costumes.
Santas of all budgets will be able to find a suitable suit on BuyCostumes.com this holiday season, with available models ranging from the $66.99 Legacy Santa Suit to the $599.99 deluxe Majestic Santa Suit. Female options include the $149.99 Mrs. St. Nick Costume, and visitors can also choose between Christmas elves and even the Grinch.
"We are in the height of the Christmas season, and the holiday spirit is spiking," said Jason Lockridge, vice president of Marketing for BuyCostumes.com. "BuyCostumes.com encourages everyone getting into the holiday festivities with Christmas costumes, whether that means a quiet family together or a rowdy SantaCon party."
SantaCons are a relatively new winter tradition – like a traditional pub crawl on a massive scale, participants in cities across the globe don red coats, hats, and beards and make their way through the town. Particularly quirky event-goers may even be seen in stereotypically – and intentionally – ugly Christmas sweaters. BuyCostumes.com has also introduced the Knit Crackling Fireplace Ugly Christmas Sweater for $64.99 in response to this trend.
# # #
BuyCostumes.com is one of the largest internet retailer of costumes and costume event décor, and the place to shop for year-round costume party needs, specializing first and foremost in Halloween. BuyCostumes.com is one of the brands of BuySeasons, Inc. Founded in 1999, BuySeasons, Inc. is the leading online retailer of costumes, accessories, party décor and supplies for year-round celebrations and entertaining. BuySeasons, Inc. owns and operates buycostumes.com as well as BirthdayExpress.com, CostumeExpress.com, 1stWishes.com and CelebrateExpress.com. BuySeasons, Inc. is a subsidiary of Liberty Interactive Corporation.