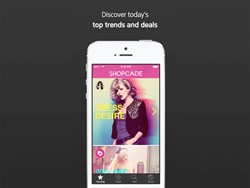 Shopcade is the go-to app for fashion lovers who are looking for celeb styles, real-life trends and deals.
New York (PRWEB) January 09, 2014
With an update of its iPhone application and the release of its new Android app, Shopcade is now making it easier for young fashionistas to keep up with top trends and deals.
Keeping up with new fashion styles takes a large amount of time and effort, and the same goes for keeping up with good deals or even finding the best-priced items for the most popular styles. Shopcade, a daily source of fashion trends and deals, introduces a one-stop shop for time and cost-conscious young fashionistas.
Every day the app features looks from trendy celebs, inspirational bloggers, must-have magazines, and Shopcade's own community of fashionistas. When a user finds products they like, they can shop or save them for later and get alerted whenever they go on sale.
As Nathalie Gaveau, Shopcade Founder & CEO, explains: "Shopcade is the go-to app for fashion lovers who are looking for celeb styles, real-life trends and deals."
Shopcade is available on the AppStore and on the Google Play Store for free.
Main app features:

Daily trends: Login daily to see today's most fashionable celeb looks, street styles, trends and deals on the "Trending" tab.
Your infinite wishlist: Every product can be saved to personal lists, so users can shop them later or share with friends and followers. Users can also use lists to share their own styles with the community. Shopcaders can revisit all of their lists in the "Profile" tab.
Deal alerts: Shopcade keeps tabs on deals on all products a user has wanted, and will alert them when they go on deal, including price drops or special offers on the "Deals" tab. Shopcade will also get exclusive deals for a user if a product or brand becomes popular on Shopcade.
More than just fashion: Browse for beauty, home, gadgets and other items in Shopcade's catalog of over 100 million products and 150,000 brands.
Join our fashionista community: Discover and follow favorite brands, trendsetters and lists to stay connected.
Additional information:
Screenshots, icons and other related media are available for download from here: http://blog.shopcade.com/press/.
Behind the scenes…
Unlike other online shopping marketplaces that base recommendations on previous shopping activity, the entire Shopcade experience - from what is seen in the feed to what deals and products are ranked highest in searches - is primarily based on shoppers' social and interest graphs. Discovery of other shoppers whose opinions can be trusted, is facilitated by Shopcade's Trend Score, inspired by Klout's influence rating program. Graph technologies and natural language processing are at the heart of this online shopping breakthrough -- connecting users with other Shopcaders, deals, brands, and retailers they'll love.
Shopcade is currently active in the UK and the US, and looking forward to launching in new countries next year.
What our partners think:
"Top trends, amazing deals and thousands of products all in one place, what more could we ask for?!" - Missguided
"Company loves to innovate and work with exciting new brands. Shopcade is the ideal partner for us – enabling our fashion-conscious readers to access the products they lust after quickly and easily." - Victoria White, Editor, Company Magazine
"What sets Shopcade apart is their constant willingness to offer innovative new promotional tools and customer engagement methods for our business." - Dorothy Perkins
"Working with Shopcade throughout London Fashion Week was on absolute pleasure. Shopcade was more than helpful offering Reiss' women's collection a variety of unique brand exposure opportunities via exciting and on brand social media campaigns." - Reiss
What our members think:
"Shopcade is a super fun way to curate your favorite products and make inspiration boards!" - Amber Atherton (My Flash Trash / Made in Chelsea)
"Great deals on BIG names! I found Alexander McQueen 'burlesque' pumps for 60% off! I would have never found them at such a reduce price if it wasn't for Shopcade." - Jess Shanahan
"Goodbye to trailing voucher sites! Loving the 'Deals on products I want'! Even easier to pick up a bargain, especially when there's multiple deals to choose from. Sooooo much easier than trailing through voucher sites or even more annoying spotting a code just after you've clicked pay." - Amy Zwaan
"One Stop Fashion Shop! I love how all on trend fashion items are together to access in one area!" - Laura Kidman