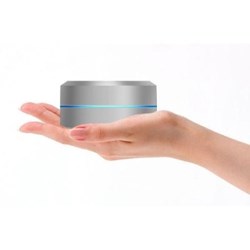 Air, Rokit Boost's Bestselling Bluetooth Speaker
New York, NY (PRWEB) December 13, 2013
It's getting close to the peak of the holiday season, and holiday shoppers everywhere are turning to Rokit Boost's high-quality, affordable luxury mobile accessories as the perfect gift options. Among the many high-end accessories that the company is offering during this bustling time of year are smartphone battery cases, portable power banks, a tablet case and Bluetooth keyboard, and other gift options.
In particular, Rokit Boost's bestselling Bluetooth speaker, the Rokit Boost Air, is raising consumer expectations as it's the perfect combo of portability, excellent audio quality, and easy multi-application use. The speaker has 2.1+EDR Bluetooth technology that makes it compatible with the iPod, iPad, iPhone, or any device with Bluetooth capabilities.
With the Rokit Boost Air's super-rich audio quality, mobile accessory users will find themselves never having to settle for subpar value while listening to their favorite tunes or sharing the latest hits with their friends, ever again.
Talkin' or Chattin' It Up
The Rokit Boost Air comes with a built-in microphone so that the product sports multi-use applications in professional and personal settings. Users can chat with their loved ones as if they're in the same room even if they're across the globe from each other. In addition, they can use the Bluetooth speaker for smooth, crystal-clear conference calls while in the office.
The Bluetooth speaker's crisp, clear audio makes talking, listening to music, or watching videos a breeze. It also puts a twist on functionality, as its consumer-minded design renders it user-friendly and intuitive in operation.
Style Meets Functionality
Engineered with a contemporary aluminum enclosure look, the Rokit Boost Air is the ideal blend of style and ease of use. The Bluetooth speaker's lightweight frame and hand rope make it so that users can take and use the speaker while on-the-go. Also, the Air's charging cord is engineered to be used with an existing iPhone wall charger, offering increased convenience.
Widespread User Satisfaction
Many users endorse the Rokit Boost Air for its small size, uncompromising quality, and superior listening experience. One reviewer says, "I have to say that I was shocked when I first tried out this Bluetooth speaker. It was stylish in silver and it almost fits the size of my hand. The first time I used it, it was amazing! The Air's sound quality is equal to that of a home system compared to the other iPod speakers I tried! The battery life allows up to 8 hours of usage once the speaker is fully charged."
"The Bluetooth unit is easy to set up, and it works for my PC, Laptop, iPhone, iPad, and even Sony Bravia TV! I am super pleased with the speaker and the super-rich sound!"
Availability
The Rokit Boost Air is available through Rokit Boost's online store and select retailers and providers. It is priced at $39.99, and in line with Rokit Boost's commitment to superior customer service, this bestselling Bluetooth speaker comes with a 1-year warranty.
Rokit Boost is currently extending a 10% discount on this product and all of its mobile accessories until Wednesday, December 25, 2013 at 11:59 PM EST. The discount is available through an exclusive coupon code at http://www.rokitboost.com. Inventory is limited while supplies last.
About Rokit Boost
Rokit Boost is a pioneer and provider of high-end, luxury mobile accessories. The company brings exceptional value to mobile lifestyle consumers by offering accessories that substantially improve the user experiences of existing electronic devices.
Whether engineering iPhone charger cases, Bluetooth headphones, or wireless Bluetooth speakers/microphones, Rokit Boost's team leverages leading-edge technological improvements to enhance the usability of today's most popular mobile devices.
Rokit Boost's first priority is giving its customers complete satisfaction, with a philosophy of great customer service, great prices, and, above all else, great-quality products.