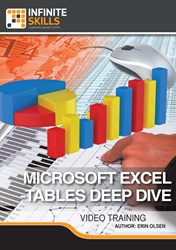 Learn Microsoft Excel - Tables Deep Dive at Your Own Pace
(PRWEB) December 15, 2013
Software training firm Infinite Skills Inc. this week introduced its Microsoft Excel - Tables Deep Dive, an advanced Excel course providing detailed training on everything related to tables and table functionality.
Excel is by far the world's most popular spreadsheet application, due in part to its virtually unlimited capabilities for customizing the way users interact with spreadsheet data.
With Infinite Skills' Microsoft Excel - Tables Deep Dive Tutorial, users with some Excel experience can begin with the basics of working with tables and progress all the way toward these customizable features, learning not only to work with table data, but create custom table styles and integrate calculations.
Microsoft Excel - Tables Deep Dive Video Tutorial - Streaming
Course author and Microsoft Certified Instructor Erin Olsen began working with Excel and SharePoint while running her own small business. She holds a master's degree in education with emphasis on instructional design and technology and has been a computer trainer since 1994, starting with Windows 3.1. Her training style is based on real-world experience as an entrepreneur, orienting her instruction style toward the practical needs of everyday users in a business environment.
Following an introduction to tables, exploring their basic functionality, Olsen looks at working with table records—how to enter and arrange data within a table and apply basic features like sorting and filtering.
The course then explains how to format tables, looking at Excel features for quick styles, modifying style options, and creating custom and default table styles.
Olsen then devotes a chapter to using calculations in tables, teaching how to calculate data within a table, create calculated columns and rows, and how to work with structured and absolute references.
Finally, Olsen helps users finalize tables, explaining how to work with table tools, remove duplicates, summarize table data with pivot tables, and create charts from tables.
"The first thing I learned about Excel," Olsen says, "is that it doesn't make you do math, it makes math easier. It's more about data and manipulation of it so you can work faster and more efficiently.
"Whether you are experienced or a new Excel user, this provides tips, tricks, and nuances with tables that can make the difference between merely using Excel and taking full advantage of all it offers to enhance your efforts and output."
Free demo videos and a full list of course contents can be found on the Microsoft Excel - Tables Deep Dive training page of the Infinite Skills website:
http://www.infiniteskills.com/training/microsoft-excel-tables-deep-dive.html.
Infinite Skills offers its Microsoft Excel - Tables Deep Dive as a direct download from the company website at a retail price of $24.95. All titles and formats are compatible with Mac and Windows operating systems. Shipping is available around the globe. Additionally, Infinite Skills tutorials are supported by project files which correspond to examples in the videos, allowing users to work alongside experienced instructors right on their computer or iPad.
About Infinite Skills Inc.
A leader in the field of software training, Infinite Skills designs its courses on a task-oriented model, teaching complex skills by providing hands-on examples and guiding users as they carry out essential functions. Infinite Skills offers a wide range of software titles available as DVDs, digital downloads, and in iPad editions. Infinite Skills now offers a subscription service, providing access to all its training content for a monthly fee, keeping with company's aim of delivering professional training to customers anywhere they want to learn.