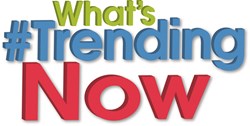 Hot winter trends and beauty products to keep women looking their best for holiday parties and surviving the winter season!
West Palm Beach, FL (PRWEB) December 19, 2013
Cooler weather, winter winds paired with indoor heat and dryer weather can all wreak havoc on your hair and skin. Beauty and Fashion expert Rebekah George featured some of the hot winter trends, beauty products and fashion tips and tricks to keep women looking their best entering the holiday parties and surviving the winter season!
Here are the 5 featured beauty products for this season:
1. At last, a big breakthrough in at-home hair color: NEW Revlon Luxurious ColorSilk Buttercream™. Combining nature and science, Revlon's team of expert scientists and colorists have created the first ammonia free, permanent cream hair color with Buttercream technology that takes hair to a new level of supreme long lasting color, tonality, radiance, shine and manageability. The luxurious cream formula is enriched with high levels of mango, shea and coconut butters. This Triple Butter Complex – a first-to-market innovation in at-home hair color – along with vitamins and antioxidants enhances delivery of color, conditioning and shine in both the coloring process and post-conditioning treatment step. Visit http://www.revloncolorsilk.com for more information.
2. Love the feel of lip balm, but crave the pop of color and glimmer of a gloss. What if your balm could also make your lips look as beautiful as they feel? New Almay Color +Care Liquid Lip Balm combines lip color and care in one. This liquid formula melts onto lips, instantly drenching them with twice the hydration of bare lips, making them softer, smoother, and healthier looking over time. Visit http://www.almay.com for more information.
3. EcoTools has everything you need to get glam this holiday season, including their EcoTools Naturally Beautiful Lash System, which comes in five on trend, beautiful faux lash styles. Each pair of lashes is cruelty-free, hypo-allergenic, and dermatologist tested, making them safe for even the most sensitive eyes. The lashes come equipped with adhesive that is free of formaldehyde, parabens, phthalate and latex. Visit http://www.ecotools.com for more information.
4. Palmer's Cocoa Butter Formula Skin Therapy Oil FACE is a multipurpose, skin perfecting oil that delivers anti-aging skin care benefits, while rejuvenating and brightening skin tone and texture. A clinical study showed that 91% of participants saw an improvement in the appearance of aging skin when using the product for eight weeks. The product combines Pure Cocoa Butter, Vitamin E, Retinol, Vitamin C and ten natural oils to provide the anti-aging nutrition your face needs for healthier, younger-looking skin. Visit http://www.palmers.com for more information.
5. Dermatologist-tested True Glow™ by Conair sonic skincare cleansing brush makes your cleanser 2X more effective and reduces pore appearance by 30%.* Sonic technology powers this high-performance brush at 300 oscillations/ second. Without irritation, it unclogs pores and washes away dirt and oil that can cause breakouts and dull, patchy, tired-looking skin. This phenomenal brush prepares skin to absorb moisturizers better – and fully moisturized skin is radiant skin. Regular use will leave skin looking healthier and feeling its best. *based on independent clinical testing and consumer surveys. Visit http://www.trueglowbyconair.com for more information.
To find more information about everything featured, visit http://www.InTheNews.tv or go to http://www.WTNshow.com.
About News Media Group, Inc.
News Media Group, Inc. produces original programming about the hottest new technology and trends hitting the market through the KillerApps.TV website. They produce a number of Satellite Media Tours and Ground Media Tours that fit the media calendar throughout the year to introduce TV and Radio station audiences to the latest tech products and applications. They also produce the "What's #Trending Now" web series through wtnshow.com and inthenews.tv sites. Visit http://www.newsmg.com.
Contact:
News Media Group, Inc.
Jennifer Rivera
jrivera(at)newsmg(dot)com