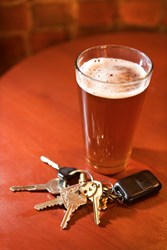 Be a good host and offer non-alcoholic beverages as well...
Edmonds, WA (PRWEB) January 11, 2014
The Holidays bring more traffic than any time of year. People are rushing to get shopping done, get to a party, or go out on the town and enjoy special events. More parties bring more drinks and more drinks bring more drunk drivers. The holiday season has one of the highest rates of alcohol related accidents and death. Ryder Law Office is offering some tips to help keep the streets safer this holiday season.
David Ryder, owner and attorney with Ryder Law Office, offers suggestions on safety this season.

"Choose not to drink. Just say no. Holiday fun can be had without the use of alcohol. If the host offers a drink politely say no; it is not rude to turn down alcohol at a party.
Be a Good Host. Offer guests non-alcoholic beverages alongside of the alcoholic ones. Offer food with the alcohol. Remind guests to have an alternate mode of transportation. Put out a key jar for guests who plan to drink. Have cab company numbers on hand. Make sure guests leave with a sober driver.
Designate a driver before going out on the town with friends. Don't wait until arriving at the party to decide a safe route home.
Set your limit. Responsible drinkers set a limit of how many drinks will be consumed. Most seasonal drinkers don't have a good sense of intoxication and how much alcohol is in the system. Decide how many drinks is enough and stick to that limit.
Give some time before the last drink and getting behind the wheel. Even if only one drink was consumed don't be fooled into thinking it's a good idea to hop back in the car. Buzzed driving is drunk driving.
Go to a party for the time with friends not the alcohol. If the attraction of showing up is the alcohol stay home and drink instead. Focus on the fun at the party not the refreshments.
When sober and behind the wheel always wear a seatbelt and make sure all passengers are safely secured. Seat belts reduce the risk of death and injury by over 50%.
Stay off the road between the hours of midnight and 3am and in times of bad weather when most drunk driving accidents occur.
Be a proactive parent of teen drivers. Write out a driving agreement and limit teenage kids driving after dark."
DUI checkpoints and higher numbers of officers will be on the roads in hopes to keep them safer. Folks who plan ahead and drink responsibly will have nothing to worry about. (Ryder Law Office a local attorney available to help with DUI charges and understanding the options available after being charged.)