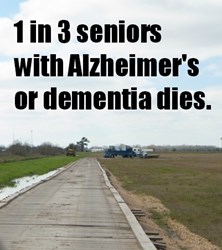 Beaumont, Texas (PRWEB) December 17, 2013
Quality Mat Company, a company well-known throughout the United States as a leading manufacturer of dragline mats, is also known for its commitment to many different health-related causes. Recently, Quality Mat partnered with the Houston and Southeast Texas branch of the Alzheimer's Association.
Quality Mat was founded in 1974 by Joe Penland Sr., and has since grown to be one of the nation's leaders in the mat rental industry. This overwhelming success has given the company the ability to devote time and money to the myriad of causes and organizations they support. Most recently, Quality Mat has begun to offer their support to the Alzheimer's Association of Houston and Southeast Texas.
According to the Centers for Disease Control and Prevention, Alzheimer's disease is the sixth leading cause of death in the United States. The disease is so prevalent that 1 in 3 seniors dies with Alzheimer's or another dementia. These startling statistics are what moved Quality Mat to get involved. "We are dedicated to causes like the Alzheimer's Association, so when we were presented with the opportunity to help, we jumped at the chance," says Joe Penland Jr.
Quality Mat's support will help the Alzheimer Association provide families with important information, either through their 24-hour Helpline or through their extensive library services. Alzheimer's Association also maintains an online guide for finding the right care giving options as well as offers programs to foster brain health in people of all ages. Alzheimer's Association also organizes the Walk to End Alzheimer's, a nationwide event that raises awareness and funds for Alzheimer's care, support, and research. The Walk to End Alzheimer's is held annually in more than 600 communities across the nation and has raised over $260 million since 1989.
As Quality Mat continues to supply the nation with the highest quality dragline mats, they also continue to remain vigilant in the fight against Alzheimer's disease. According to Penland Jr., "We want to make a difference in the lives of people suffering with Alzheimer's. Through our partnership with the Alzheimer's Association, we believe we can." For more information on the Alzheimer's Association, visit http://www.alz.org.
About Quality Mat Company
The Quality Mat Company has been an industry leader in ground protection mats since 1974. Based in Beaumont, Texas, over the years, Quality Mat has provided ground protection mats and rental mats to a variety of companies to aid in environmental and natural disaster cleanups.