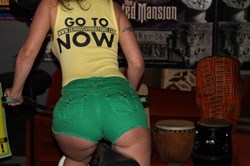 "Unlike any other seat cover on the market, our new design allows each rider to customize their bicycle cover for a personal, pleasurable experience."
(PRWEB) December 16, 2013
Adult Toy Company, Serious Vibrations has a new bicycle seat cover on the market! Perfect for bicyclists of all levels. The innovative new seat cover promises a pleasurable experience by helping to increase the rider's heart rate, breathing and blood flow.
Clearly, this new product is not the typical bicycle seat cover. The seat cover is made of high quality patented memory gel and has been overlaid with a soft sexy black nylon cover. The three holes sewn into the cover allow cyclists to insert and position their favorite vibrators.
Says company founder Gregory Race, "Not all people are the same. Each cyclist requires a customized way to achieve stimulation. Unlike any other seat cover on the market, our new design allows each rider to customize their bicycle cover for a personal, pleasurable experience."
The new design was inspired by Gregory Race of Serious Vibrations. After riding bikes with a friend, Gregory sat down and designed an effective way to enable everyone to enjoy a pleasurable experience on any bike. After testing the new design, the results were orgasmic multiplied X10. Continues Race, "We all need more daily exercise, and biking is one of the most popular outdoor activities in the world. This sexy new bicycle seat cover is promoting fitness and sexual wellness at the same time."
This high quality cover is designed for comfort and is made for everyday use, with or without a vibrator. It will keep the bottom and the hot spots feeling great, no matter how long the ride. Take it to spin class or replace your existing seat cover.
The package includes: A Bicycle Seat Cover, Two Bullet Vibrators, Five Latex Bicycle Seat Covers. For the particularly adventurous, a bicycle seat latex cover is used during bare-back riding. The protective latex cover is stretched over the seat cover. Then apply lubricant, thus turning a bike ride into a serious adventure. All for a cost of around $60
For more information, go to http://www.seriousvibrations.com.
Media Contact:
Gregory Race
519 Bennett Ave. Colorado Springs, CO. 80909
Phone: 719-237-4511
Email: seriousvibrations(at)hotmail(dot)com
Website: http://www.seriousvibrations.com