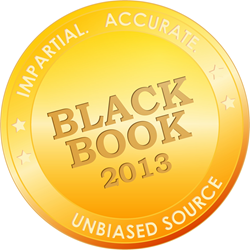 Struggling hospitals in the hunt for the strongest talent are extending their searches to senior leaders from banking, financial and manufacturing backgrounds as strategy changes devalues the skills of long tenured, hospital seasoned professionals.
New York, NY (PRWEB) December 18, 2013
A Black Book Rankings poll of 1,404 healthcare provider organizations' human resources officers and board members revealed the developing trend affecting the way headhunters will seek candidates. Black Book estimates that two-thirds of CEOs hired in 2014 will have little to no healthcare sector experience, in favor of non-industry productivity, business development and financial management experts with heavy technological expertise.
Although transitioning to a hospital operation has its challenges, outsiders' approaches are ushering in a new movement in hospital administration. "An outside hire will not have developed hospital management skills from within or understand an organization's unwritten rules at first, but that's not a bad thing either as more hospitals face fresh ideas to avoid bankruptcy, expedite smoother consolidations, conquer payment reform, and productivity issues," said Doug Brown, Managing Partner of Black Book™.
Historically, when a hospital goes outside for a candidate, either the organization is in crisis or the board recognizes a need for change for some other reason. The external candidate typically has a platform for change and is unburdened by the status quo. Any internal hire often is married to the past or was involved in creating it, perpetuating the operations leading to the decline.
An indication of the trend, according to respondents, showed only 39% of CEOs hired in 2013 came from another hospital CEO position, down from 79% in a 2009 Black Book survey.
A new CEO's first decisions are often distruptive to a hospital's staff, particularly the incumbent management team. "An outsider's perspective on hospital operations will be controversial but often credited in several facility turnarounds for bolstering organizational financial stability, and ultimately profitability," noted Brown.
Black Book research also reveals the average tenure of a hospital CEO is now under 3.5 years, and 56% percent of CEO 's exits are involuntary. Additionally, secondary turnover of other senior managers ripples through most other nonclinical/medical leadership positions after a CEO exits. Nearly half of CFOs, CIOs, and COOs are terminated within nine months of a new CEO's hire, as well as 32% of Chief Human Resource Officers and 24% of Chief Marketing Officers.
87% of Chief Medical Officers are replaced soonest, most within two months, after a new CEO is appointed. Board members responding to this survey expect the turnover of top human resources and marketing executives to follow the trend of non-industry hires as well.
94% of new CEOs without extensive hospital backgrounds indicate they do not believe healthcare expertise is required for replacing other senior leadership team members after a management overhaul.
As more hospitals and clinics face bankruptcy and as payment reform accelerates, digging into the details of how outsiders disrupt the healthcare delivery sector can be eye-opening for boards looking for fresh talent. "Widening an executive search to other industries can help you land someone whose experience and perspective can raise your game to the next level." said Brown.
89% of board members hiring outsiders agree that broad business operational expertise and singular vision pays off with fresh perspectives on efficiencies, value, cost savings, and the goodwill to the community.
Successful non-industry placements aren't being limited to hospitals either. Payers, chains, ancillaries, ACOs, support firms, vendors, medical product manufacturers and pharmaceutical firms are tapping other business' top talent, a major shift from the "healthcare industry experience only" mindset for executive placement that has prevailed since the 1970's, according to corresponding Black Book 2013 surveys.
As other industries such as automotive and insurance have shown, sometimes it takes an outsider to put a business on the right path. "From improving processes to identifying new strategic opportunities, hospital and provider companies looking to innovate should also consider seeking talent outside their industries." said Brown.
"Hospitals facing stalled growth or new competitive challenges need fresh thinking. Hiring internal candidates with the same norms and values as your current team will not meet the long term strategic growth needs of the hospital organization. Relevant outside thinking makes a valuable contribution, enhancing business vitality, longevity and sustainability. Staying contemporary, revitalizing your brand, enhancing products and expanding into new markets all begin with the next person you interview and add to your senior leadership team," added Brown.
Among survey respondents, the most intriguing new hospital CEO candidates are emerging from the Venture Capital, Private Equity industry (idealized by 42% of survey participants), Finance and Accounting (40%), Banking (32%), Technology (22%), Marketing and Sales (19%), Not-for-Profits ( 14%), and Pharma/Biotech (12%).
Black Book poll also revealed the most innovative healthcare executive search firms from a field over 1000 search consulting firms, most of which have embraced modern sales and marketing techniques. From Black Book's client satisfaction results, these firms intensively compete for market share, but far too many cut corners in order to obtain assignments, fail to maintain high ethical standards of performance, and even mishandle candidates and clients in the race to placement process. In surveying senior human resources executives and board members responsible for securing and managing the services of retained executive search firms, the top twenty high performance healthcare executive search firms were ranked across eighteen key performance indicators.
CEJKA SEARCH ranked the #1 healthcare executive search firm, based on the aggregate client experience and customer satisfaction scores on eighteen key performance indicators unique to the recruitment sector.
Other executive search firms rated highly by client experience surveying are in alphabetical order: B.E. SMITH, BAUMANN & ASSOCIATES, BUFFKIN GROUP, FURST GROUP, GRANT COOPER & ASSOCIATES, HEALTHCARE RECRUITMENT SPECIALISTS, HEIDRICK & STRUGGLES, KORN/FERRY INTERNATIONAL, MERRAINE GROUP, MSA EXECUTIVE SEARCH, QUICK LEONARD KIEFFER, REACTION SEARCH INTERNATIONAL, RUSSELL REYNOLDS ASSOCIATES, SOLOMONPAGE GROUP, SPENCER STUART, SSI SEARCH, TYLER & COMPANY, WITT/KIEFFER and ZURICKDAVIS.
About Black Book™
Black Book Rankings, a division of Black Book Market Research LLC, provides healthcare providers, media, investors, analysts, payors, quality minded vendors, and prospective solutions and system buyers, pharmaceutical manufacturers, and other interested sectors of the clinical , outsourced services, technology and equipment sectors with comprehensive comparison data of the industry's top respected and competitively performing vendors.
The largest user opinion poll of its kind in healthcare, Black Book™ collects over 400,000 crowdsourced viewpoints on technology and outsourced services vendor performance annually . For methodology, auditing, resources, comprehensive research and ranking data see http://www.blackbookrankings.com