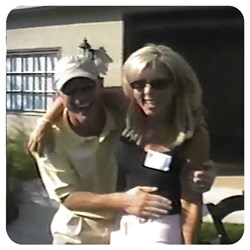 People think everything and everyone is fake in Hollywood, but these videos show the real me – unscripted, unfiltered by a producer or editor.
Santa Clara and Los Angeles CA (PRWEB) December 19, 2013
Her life has been well-documented thanks to Bravo TV's Real Housewives series, yet there's still plenty of footage we haven't seen of reality TV star Vicki Gunvalson. Through her partnership with premiere video memories company, YesVideo, the entrepreneur-turned-reality-star is sharing some of her most personal, unscripted footage for the first time ever with fans.
Vicki used YesVideo to transfer her vintage home movies to DVD and online, so she can easily share clips by email, Facebook, or Instagram. Like many Americans, most of Vicki's home movies were on VHS and film reels which made it a challenge to view, since technology has changed so much in recent years. Fans will see birthdays, summer baseball, and an early 1990s Christmas scene. These clips show Vicki as a "real housewife" before she was a "Real Housewife", providing a glimpse of what reality really was like for her before her TV fame.
Prior to her stint on the wildly popular Housewives franchise, Vicki founded Coto Insurance and Financial Services Inc., now one of the most successful insurance agencies in the U.S. After gaining fame on the popular show, the business-savvy mom of two has since penned an autobiography, More Than a Housewife, and started her own vodka line, Vicki's Vodkas. Vicki is the only original cast member to last throughout the Real Housewives of Orange County's eight seasons. In that time, Vicki has maintained a loyal fan-base by sharing all her highs and lows.
"There's so much more to me and my family than what audiences get to see," said Gunvalson. "I live in the heart of Hollywood, where even reality TV is not 'real-life'. People think everything and everyone is fake in Hollywood, but these videos show the real me – unscripted, unfiltered by a producer or editor. It's been such a joy to re-live these moments with my family and friends."
As the nation's #1 memory factory, YesVideo is the most trusted provider of home video digitization services; Vicki Gunvalson joins 7 million American families who have already used YesVideo to preserve their favorite memories. Retailers like Target, Walmart, Sam's Club, CVS, Rite-Aid, and Costco all offer the YesVideo service to their customers.
"We are thrilled to be working with Vicki, who is much more than the person you see on Real Housewives – she's a product of her history, and now she can easily share that history with her friends, family, and fans," says Michael Chang, CEO of YesVideo.
How the YesVideo experience works:
1. Bring your old media to a local participating retailer like Walmart, Sam's Club, CVS or Costco; or, send your media directly to YesVideo. YesVideo accepts film reels (8mm, 16mm), VHS, Beta, slides, photographs, negatives, SD cards. For silent movies, a variety of musical backgrounds are available.
2. Orders are processed in less than 4 weeks in the United States, at either the YesVideo headquarters in Santa Clara, CA, or the company's Georgia location.
3. A DVD of the footage is sent to the retailer or customer's home; if a customer has opted to have their memories stored online, they can be viewed on any computer, connected TV, smartphone, or tablet.
To check out some of Vicki's favorite memories, and receive a code for one free video transfer, please visit: http://yesvideo.com/vickigunvalson