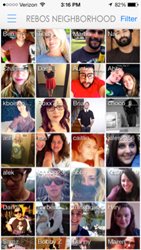 Social networking, meet sobriety!
(PRWEB) December 14, 2013
Today advocates for free sober fun announced the unveiling of the much-anticipated social networking app for people staying clean and alcohol free. Rebos, hitting Apple's App Store on December 15th, links individuals looking to discover sober fun, friends, and relationships. REBOS creates a virtual neighborhood focused on sober connection. Individuals that are in recovery, clean for fitness, health, and/or religious reasons can now meet, interact, and forge new supportive contacts. Imagine showing up in a new city and having an entire community at your fingertips. REBOS gets clean fun and social media acquainted.
App users will upload a photo, indicate their sober motivation (fitness, health, religion, etc.) and get started. Using a mobile device's GPS, REBOS accesses the user's location and introduces them to likeminded people nearby. Once mobile users have created their profile, they will filter neighborhood results by age, sober motivation, relationship status, and more. When a profile strikes someone's fancy a quick tap will open up conversation. REBOS neighbors chat, send pics, share their exact location, and choose favorites. Founder Ben Zimmer stated, "With the launch of REBOS we will build community, get people connected, and bring sobriety and the alcohol free lifestyle out of the shadows and into the spotlight. There are more places than bars and clubs to meet people. Let's make it obvious."