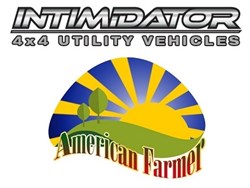 Batesville, AR (PRWEB) December 15, 2013
Intimidator, Inc., announced today that they will be featured in an upcoming episode of American Farmer airing summer of 2014 on RFD-TV.
In this episode, American Farmer will explore Intimidator, known for their family of utility vehicles. Viewers will learn about the Intimidator 4x4, the American made UTV, consisting of a solid-steel, all welded chassis. Available in diesel, gas, or electric power selections, with a standard bench seat to accommodate three adults; the Intimidator 4x4 boasts the longest standard warranty in its class.
"We are very excited to be included in the American Farmer series," says Matt Foster, R&D designer for Intimidator, Inc. "The program takes us into the homes of the audience that we build our products for. Our utility vehicles are work machines and our generous 1,600-pound payload capacity is popular with farmers and hunters, because it is built around their needs."
"American Farmer is proud to feature Intimidator in their upcoming line-up for 2014." said Charlie Cowan, producer for American Farmer. "Designed for the ultimate off-road hunters and famers, the Intimidator 4x4 is sure to captivate audiences."
About Intimidator, Inc.:
Intimidator, Inc. is owned by Robert and Becky Foster, former co-owners of Bad Boy Mowers. Intimidator offers world-class American-made, side-by-side 4x4 Utility Vehicles with unparalleled strength, power and performance at an affordable price. The company's expanding line of products includes the Intimidator Classic, Intimidator Crew Cab, and Intimidator Truck series utility vehicles built to suit a variety of needs—from hauling feed to hunting and more.
Headquartered in Batesville, Arkansas, the family owned company has more than 50 employees. Intimidator products are sold through a growing network of more than 65 dealers in the United States. Intimidator and its partners Bad Dawg Accessories and Ground Hog Maxx provide the best aftermarket selection of accessory items the side-by-side market has to offer.
For more information on Intimidator, visit http://www.IntimidatorUTV.com, or call (877) 522-3364.
About American Farmer:
American Farmer is a breakthrough program on a mission to showcase the latest advancements in agriculture and farming. From seed to harvest, livestock and more, our producers have traveled the country covering the people, places and issues impacting all areas of farm country.
American Farmer airs Tuesdays at 8:30am EST on RFD-TV as well as Saturdays at 1:30pm and Midnight EST on RURAL-TV.
For more information visit: http://www.AmericanFarmerTV.com or call (866) 496-4065.
Media Contact:
Charlie Cowan, Senior Producer / American Farmer
(866) 496-4065 x 875
charlie(at)AmericanFarmerTV(dot)com