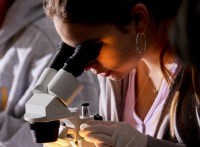 All of the biology and chemistry courses will be paired with active learning in two new state-of-the-art laboratories.
(PRWEB) December 13, 2013
As security and intelligence issues and crime are tackled with an ever-expanding arsenal of forensic methods, Embry-Riddle Aeronautical University's Prescott Campus will meet the need for more DNA and biology specialists by introducing a bachelor's degree in Forensic Biology in Fall 2014.
The B.S. in Forensic Biology, which originated within Embry-Riddle's popular B.S. in Global Security & Intelligence Studies degree program, combines the disciplines of biology, chemistry, and law, engaging students in evidence collection, tissue sampling and analysis, and DNA techniques. In addition to a solid science foundation, the coursework covers the legal requirements for evidence.
Graduates of the Forensic Biology degree program will be ready for American Academy of Forensic Sciences accreditation and for employment in forensic science laboratories, law enforcement, pre-medical fields, and research and legal arenas. The degree also provides the groundwork for those who wish to continue their education with a master's degree in the hard sciences or advance to law school or medical school.
All biology and chemistry courses in the degree program are paired with hands-on active learning in two new state-of-the-art science laboratories, where students will examine materials from human, animal, plant and microorganism sources.
"Our students will gain a hiring advantage through extensive lab experience using professional-level equipment, abundant research opportunities alongside faculty, and small class sizes with individualized faculty attention – all of which are rare at the undergraduate level at other universities," said Dr. Elizabeth Long, director of the Forensics Biology degree program and an assistant professor of biology who joined Embry-Riddle in 2012.
As a genetic researcher for industry and academia, Dr. Long has specialized in DNA technology such as bioinformatics, DNA sequencing, genotyping, DNA-based parentage assignment, and transgenic technology.
"Dr. Long is an inspiration to our students and especially to female students, who tend to be attracted to the life sciences," said Dr. Archie Dickey, dean of the College of Arts & Sciences. "We look forward to continuing to build female enrollment here at the Prescott Campus."
In addition to the Forensic Biology emphasis on lab work and research, Dr. Long says she will encourage students to pursue internships, typically undertaken between the junior and senior years. "Forensics is an experience-driven field, so potential employers want reassurance that students have applied and honed their skills in real-world situations," she said. "As a bonus, interns often earn full-time positions with their host employers."
Forensic Biology students will have the chance to intern locally with the Yavapai County Sheriff's Office, where students enrolled in the B.S. in Global Security & Intelligence Studies program have been assisting criminal investigation cases, working with the forensics unit, and ensuring that homes and businesses are secured.
To gain even more proficiency, Forensic Biology students can join the Embry-Riddle chapter of the American Criminal Justice Association (Lambda Alpha Epsilon), whose annual regional and national conferences include competitions in academics, firearms, physical agility, and crime scene investigation.
About Embry-Riddle
Embry-Riddle Aeronautical University, the world's largest, fully accredited university specializing in aviation and aerospace, is a nonprofit, independent institution offering more than 40 baccalaureate, master's and Ph.D. degree programs in its colleges of Arts and Sciences, Aviation, Business and Engineering. Embry-Riddle educates students at residential campuses in Daytona Beach, Fla., and Prescott, Ariz., and through the Worldwide Campus with more than 150 locations in the United States, Europe, Asia and the Middle East. The university is a major research center, seeking solutions to real-world problems in partnership with the aerospace industry, other universities and government agencies. For more information, visit http://www.embryriddle.edu, follow us on Twitter (@EmbryRiddle) and http://www.facebook.com/EmbryRiddleUniversity, and find expert videos at YouTube.com/EmbryRiddleUniv.
###
Media Contact
Mary Van Buren
Assistant Director, Communications
Marketing & Enrollment Management
Embry-Riddle Aeronautical University
Office: (386) 226-6525
mary(dot)van(dot)buren(at)erau(dot)edu
http://www.embryriddle.edu
Online News Center