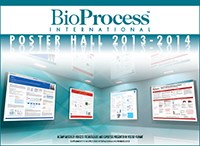 New York, NY (PRWEB) December 17, 2013
BioProcess International (BPI) announces the publication of the 2014 edition of the annual BioProcess International Online Poster Hall. This year's collection features 24 bioprocess themed posters covering Analytical, Cell Therapy, Downstream Processing, Laboratory Products and Equipment, and Upstream Processing. Viewers also have the chance to listen to audio files providing a deeper understanding of the technologies discussed and to contact authors with any questions or comments.
Posters include:
The Importance of Thresholding in Imaging Analysis of Protein Aggregates
(Fluid Imaging Technologies, Inc.)
Enhancing Efficiency and Economics in Process Development and Quality Control of Biotherapeutics
(ForteBIO, A Division of Pall Corporation)
Transfer of Hepatic Progenitor Stem Cell Culture Process From Multitray Stacks to the Integrity® Xpansion™ Multiplate Biorector
(ATMI LifeSciences, Promethera BioSciences)
Expansion of T-cells Using Xuri™ Cell Expansion System W25 and WAVE Bioreactor 2/10 System
(GE Healthcare Life Sciences)
T Cells Expanded in the WAVE Bioreactor™ 2/10 System Maintain a Healthy Phenotype
(GE Healthcare)
Aggregate Removal From Monoclonal Antibody With Nuvia™ HR-S
(Bio-Rad Laboratories)
Next Generation Depth Filters for the Clarification of Flocculated Mammalian Cell Culture
(EMD Millipore)
Liquid-Liquid Porometry of Viresolve® Pro Membrane
(EMD Millipore)
A Case Study: 3-Step Process for Efficient mAb Purification Using Different Commercially
(EMD Millipore)
Scalable Method for Packing Chromatography Columns
(EMD Millipore)
Platform Purification of a Domain Antibody
(GE Healthcare Life Sciences)
Progress on a Fully Disposable Downstream Platform: A Simple, Risk-Free, Plug-in Solution to Solve the DSP Bottleneck
(Natrix Separations, Inc.)
Semi-automated, Single-use TFF Systems With an 'Open Architecture' Design Maximize Flexibility and Allow Supply Chain Security
(Parker Domnick Hunter)
Sartobind® pico and Sartobind® nano on Akta® - Optimizing Conditions for Liguid Chromatograpy Systems
(Sartorius Stedim Biotech)
Sartopore® Platinum Sterile Filtration, Redefined
(Sartorius Stedim Biotech)
Viral Vector Production in the Integrity® iCELLis® Disposable Fixed-bed Bioreactor From Bench-Scale to Industrial Scale
(ATMI)
Is the Gold Standard Tarnished? Weaknesses in the Standard Method Compromise Your RMM Validation
(Rapid Micro Biosystems)
Microbial Cultivation in Different Scales in the CELL-tainer® Rocking Single-Use Bioreactor
(Charter Medical)
Regulation of Cell Apoptosis by Insulin and IGF-I
(FEF Chemicals)
A Systematic Strategy of Cell Culture Media and Feed Development
(FujiFilm Diosynth Biotechnologies)
Continuous Bioprocessing: A CMO's Perspective
(Lonza)
Maximizing Protein Expression in CHO Suspension Cells Through Transient Transfection
(Mirus Bio LLC)
Rapid Antigen Production in Pseudomonas fluorescens Utilizing a High-throughput, Parallel Processing Approach
(Pfenex)
Cookie Cutter Proteolysis: Achieving Reproducible, Efficient Digestions for Proteomic Workflows
(Shimadzu Scientific Instruments)
About BioProcess International
BioProcess International™ (http://www.bioprocessintl.com) is a monthly, controlled-circulation magazine devoted to the development, scale-up, and manufacture of biotherapeutics and biodiagnostics. Each issue provides the global industrial biotherapeutic community with up-to-date, peer-reviewed information detailing the business, politics, ethics, applications, products, and services required to successfully drive biopharmaceuticals, vaccines, and biodiagnostics through the development and manufacturing process.
BioProcess International™ is part of the IBC Life Sciences Division of Informa, plc, a leading international provider of specialist information and services for the academic, professional and business communities. Informa offers a world-class portfolio of publications, events and data services for researchers, students, lecturers and professionals in the academic and scientific communities worldwide.
View the BioProcess International Online Poster Hall at: http://www.bioprocessintl.com/posters.