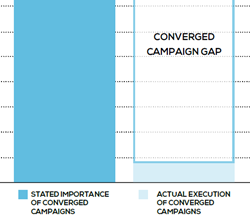 Marketers know what they have to do, they're just not doing it.
Austin, TX (PRWEB) December 16, 2013
The customer decision journey has changed as consumers interact with brands in more and more ways online and offline across diverse touch points. Meanwhile customers have the increasing expectation that brands will be able to keep up with their desires to search for what they want when they want on the platforms they prefer. These are digitally enabled, socially connected customers. As technology and the consumers it serves grow more sophisticated, it's up to marketing leaders to engage customers with the immediacy and depth they seek.
In August 2013, nFusion conducted research to determine marketers' ability to engage digitally enabled and socially connected customers throughout their various brand activities. They discovered:

Marketers are challenged to execute optimally across paid, owned and earned media touch points
Organizational and budgetary issues inhibit progress toward a desired campaign approach
Many marketers are aware of this disconnect and are actively seeking solutions to help bridge the converged campaign gap
nFusion's survey report summarizes the findings of that research.
ABOUT NFUSION
nFusion is a digital marketing agency that partners with marketing change agents to revitalize brands, transform a company's digital presence and accelerate sales. With an agile and collaborative approach, nFusion's team of multi-disciplinary specialists helps brands maximize the effectiveness of paid, owned and earned media, so marketers can make an immediate and measurable impact. Headquartered in Austin, Texas, nFusion's B2B and B2C clients include AMD, CiCi's Pizza, Comerica Bank, Rush Enterprises, Samsung, SanDisk, Sonus Networks and Zimmer Spine. nFusion can be found online at nfusion.com, and on LinkedIn, Facebook and Twitter.