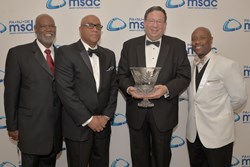 It was a great night to celebrate corporate diversity and supplier excellence
Philadelphia, PA (PRWEB) December 13, 2013
The Pennsylvania-New Jersey-Delaware Minority Supplier Development Council (PA-NJ-DE MSDC) announced the corporation and supplier of the year winners at the MSDC Choice Awards Gala held recently at the Hyatt at the Bellevue in Philadelphia, PA. The celebration brought together over 450 guests, including Fortune 500 executives, minority business owners, public and private sector leaders, and government officials. Monique Braxton, NBC 10 News reporter, served as mistress of ceremonies.
"It was a great night to celebrate corporate diversity and supplier excellence," said Wade Colclough, president and CEO of the PA-NJ-DE MSDC. "It was gratifying to honor our corporate members for providing contract opportunities for diverse MSDC-certified MBEs and to recognize those MBEs who consistently provide stellar service to corporate America."
Comcast NBCUniversal, a global media and technology company, received the prestigious National Corporation of the Year award. Comcast's Executive Vice President and Chief Diversity Officer, David L. Cohen, accepted the award. The National and Regional Corporation of the Year awards honor the winning companies' supplier diversity engagement, contracting activity, leadership, and minority business enterprise (MBE) development.
AmeriHealth Caritas Family of Companies, one of the nation's leaders in health care solutions for those most in need, received the Regional Corporation of the Year award. Michael A. Rashid, President and CEO of AmeriHealth Caritas, accepted the honor. Rashid also served as the 2013 Choice Awards Gala Co-Chair along with Reneé Amoore, President and CEO of The Amoore Group, an economic development, health care, and management consulting firm based in King of Prussia, Pennsylvania.
Minority business enterprises (MBEs), in four class categories, were named Suppliers of the Year. These winners, based on sales revenue, high quality products and services, contributions to the growth and development of society and their communities and other criteria, were: Class I – Jidan Cleaning, LLC; Class II – Wu & Associates, Inc.; Class III – Union Packaging, LLC; ; and Class IV – Populus Group, LLC.
In addition, Saunjah Powell-Pointer, Associate Director of Supplier Diversity at Merck, and Marla Hamilton, Vice President of Marketing & Business Development at Philadelphia Industrial Development Corporation, both received Advocate of the Year awards. The organization's James Brown Legacy Award and the Guardian Award, both exemplifying business leadership and community involvement, were given posthumously to E. Steven Collins (former Director of Urban Marketing and External Relations at Radio One) and Reverend William H. Gray, III (former Congressman), respectively.
Merck, BNY Mellon and Johnson & Johnson were the event's top Gold sponsors. Other sponsors included: AlliedBarton Security Services; ARAMARK; Bank of America; Caesars Entertainment; DuPont; Highmark; PECO – An Exelon Company; Pepco Holdings, Inc.; Pfizer, Inc.; RBS Citizens; Shire Pharmaceuticals; Verizon; Aetna; Alpha Enterprise Group; Deluxe Systems, Inc.; Impact Dimensions; LLC; Giant; PRWT; SwainTechs; Communications Test Design, Inc.; PARX Casino; East Hill Video; Améredia; and Comcast.
About PA-NJ-DE Minority Supplier Development Council
Mission – Certify, Develop, Connect, and Advocate. The PA-NJ-DE Minority Supplier Development Council (PA-NJ-DE MSDC) is an affiliate of the National Minority Supplier Development Council, one of the country's leading business membership organizations. It provides increased procurement and business opportunities for minority businesses of all sizes and a connection between corporate America, government entities, and minority-owned businesses. Headquartered in Philadelphia, PA (The Bourse – 111 South Independence Mall East, Suite 630, Philadelphia., PA) the PA-NJ-DE MSDC represents over 150 corporate members and 425 MBEs with more than 35,000 employees $14 billion in total revenue throughout Southeastern Pennsylvania, South Jersey and Delaware. For more information, visit http://www.msdc-panjde.org.