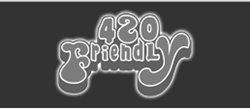 "At ClickFWD LLC we are honored and very excited to see that our JReviews component for Joomla!® was chosen to power the store locator and review system for the 420 Friendly website." -Alejandro Schmeichler
(PRWEB) December 14, 2013
With the recent launch of its holiday clothing line flying off storage shelves, 420 Friendly is fully embracing the intensity of its promising and posh marijuana-related couture line. A brand that is recognized for its deep-rooted appeal to the California dreamin' counterculture, 420 Friendly has never strayed from its hang loose heritage. These cannabis threads are responsible for discovering the couture of life in the everyday -- the life of the posh, but the posh who keep it real.
420 Friendly is not only a couture line of clothing, but it is more of a brand that presents to its consumer market an element of surprise within all of its designs. In terms of success, this up-and-coming clothing company is responsible for creating many innovative retail developments that are currently leading its surge for stardom.
Although continuing to evolve each and every day, consistency and product quality are two standards that do not change. If there is one thing that will stay consistent, it is 420 Friendly bringing the same confident, whimsical and cool runnings attitude to everything it creates with only the highest possible quality. It will only be a matter of time before 420 Friendly becomes a global phenomenon through its detailed and unique assortment of couture fashion apparel and accessories.
As fashionistas and fashion advocates, 420 Friendly is dedicated to expressing the widespread acceptance of cannabis and properly portraying the 420 Friendly subculture's voice in current fashion. Each product sold through the 420 Friendly online storefront features high-quality material and portrays an accurate voice of the alternative community without any stereotypical or negative connotations. By sticking true to an audience that fully supports the glory of being 420 Friendly, the many designs and products offered through this brand are proving to become one of the holiday season's hottest commodities.
Consumers everywhere have nothing but great things to say about this brand's unique and artistic approach to fashion advocacy. Hip-hop artists, athletes, attorneys, entrepreneurs and even the local librarian love the art of being 420 Friendly. This brand has a couture line that unites every consumer at the seam as a whole and provides the most high-end products.
Additionally, 420 Friendly has implemented an all-new configured retail locator that has been developed by using the JReviews system through Joomla. JReviews is a powerful Joomla-based directory that is responsible for establishing a reviewing component. This component can build media rich review sites, business directories, service directories, product catalogs and even classifieds. The company highly recommended that any entity that needs an established retail locator should use the JReviews system.
With outstanding customer support and an amazing outreach to help anyone within this industry, this is a highly endorsed system. Alejandro Schmeichler, owner of JReviews said, "At ClickFWD LLC we are honored and very excited to see that our JReviews component for Joomla!® was chosen to power the store locator and review system for the 420 Friendly website. For more information about our products please visit our website at http://www.reviewsforjoomla.com."