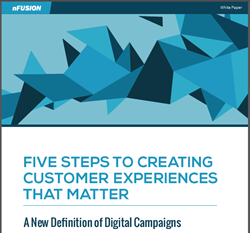 74 percent of marketers know that converged campaigns are crucial for maximizing marketing effectiveness — only nine percent rate their most recent efforts as successful examples of converged marketing.
Austin, TX (PRWEB) December 17, 2013
Today's digital world has changed how consumers discover, explore and purchase products. They seek out relevant information when they want it, where they want it and how they want it through a multitude of digital media channels and devices. They are no longer simply passive recipients of marketing messages, but are actively sharing opinions about brands with other customers in order to make faster, better and more satisfying decisions.
Marketers recognize that these changes have been disruptive and that to maximize the effectiveness of their marketing they need to change how they plan and execute campaigns. A recent research study by nFusion of senior-level marketers confirmed this, with 74 percent agreeing that "converged media campaigns, which create synergistic impact across paid, owned and earned touch points and deliver a cohesive brand experience in all touch points (offline and online) are important for maximizing marketing effectiveness."
However, only nine percent of marketers indicated that their most recent marketing efforts did so.
nFusion calls this gap between how marketers believe marketing should be done and what they're actually doing the "converged campaign gap." Overcoming the gap requires a break from how most marketing organizations plan and execute programs today.
nFusion's white paper explains:

The three main factors causing the gap
A new model of campaign needed to overcome the gap: the converged campaign
How converged campaigns differ from traditional campaigns and what the advantages are
How to overcome inhibitors to converged campaigns
A five-step process for implementing converged campaigns
Read the nFusion white paper, Five Steps to Creating Customer Experiences That Matter.
ABOUT NFUSION
nFusion is a digital marketing agency that partners with marketing change agents to revitalize brands, transform a company's digital presence and accelerate sales. With an agile and collaborative approach, nFusion's team of multi-disciplinary specialists helps brands maximize the effectiveness of paid, owned and earned media, so marketers can make an immediate and measurable impact. Headquartered in Austin, Texas, nFusion's B2B and B2C clients include AMD, CiCi's Pizza, Comerica Bank, Rush Enterprises, Samsung, SanDisk, Sonus Networks and Zimmer Spine. nFusion can be found online at nfusion.com, and on LinkedIn, Facebook and Twitter.