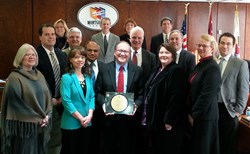 Dayton, OH (PRWEB) December 15, 2013
Montgomery County, Ohio is proud to announce that it has received, for the 30th year in a row, the "Distinguished Budget Presentation Award" from the Government Finance Officers Association of the United States and Canada (GFOA).
On Tuesday, December 12, 2013, the Montgomery County, Ohio Board of County Commissioners recognized the County's Office of Management & Budget for this outstanding accomplishment.
In order to receive this award, a governmental unit must publish a budget document that meets program criteria as a policy document, an operations guide, a financial plan and a communications device. Budget documents must be rated "proficient" in all four categories, and the 14 mandatory criteria within those categories, to receive the award.
"This award represents three decades of exceptional financial management provided to our citizens," said Montgomery County Commission President Dan Foley. "Less than a half-dozen counties in the entire nation can match that 30-year string of awards."
Montgomery County Ohio's budget documents are available for viewing online at http://www.mcohio.org/services/omb.