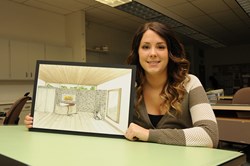 I need to be here (in a design lab) working after class pretty much all the time. But placing third has boosted my confidence. I know I'm on the right track.
Vermilion, Alberta (PRWEB) December 16, 2013
In October, when Krista Savino completed her bathroom design for the National Kitchen and Bath Association (NKBA) student competition, she was relieved to be finished with the project.
"It was very stressful because we were just learning how to use AutoCAD (design and drafting software) and I had only designed one bathroom prior to the competition," says Savino, a second year interior design technology student at Lakeland College's Vermilion campus.
Much to her surprise, the 25-year-old Saskatoon resident placed third in the competition that featured entries from 39 colleges and universities throughout North America. Her classmate Megan MacNaughton, 20, of North Battleford received an honourable mention.
With the placings, Lakeland College's winning streak in design competitions extends to 11 years. Asked if the program's success in competitions adds extra pressure to students, Savino admits it does. "We didn't want to be the class to break the streak. Fortunately we won't be," she says.
In previous years, students entered a kitchen and a bathroom design by the end of November. This year, NKBA changed submission deadlines to Oct. 31. Because of the shortened timelines, the students entered only the bathroom portion of the competition.
Given the reduced amount of time that students had to work on their projects, instructors Greg Plant and Fiona McLeod recognized the odds were against Lakeland students to place in this NKBA competition. "They hardly had any experience working with AutoCAD. They were learning the software while they were completing the project," says Plant.
But, as in the past, the students once again exceeded their instructors' expectations. "We submitted 19 entries and, in my opinion, our students really did meet the challenge described in the competition," says McLeod.
Students had to create a bathroom design for a fictional client who lived in Nebraska. The design had to reflect the natural habitat of the area and incorporate sustainable materials. Entries consisted of a concept statement, perspective, working drawings and material board. Savino created a modern but casual design. MacNaughton's design featured organic material.
With her third-place finish, Savino earns a trip to the 2014 Kitchen and Bath Industry Show in Las Vegas where she will receive a $1,000 scholarship.
Breaking into the top three in the competition is an important accomplishment for Savino. "It means so much to me. It's really rewarding to know my hard work is paying off. I also have to thank our instructors. They are excellent," she says. "This program is a very busy two-year program. There is no going home after the school day is done. I need to be here (in a design lab) working after class pretty much all the time. But placing third has boosted my confidence. I know I'm on the right track."
Established in 1913 as the Vermilion School of Agriculture, Lakeland College serves more than 7,500 students every year at its campuses in Vermilion, Alta., and Lloydminster, Alta./Sask., and through online and off-site programs and courses. Lakeland offers credit programming in the areas of agricultural sciences, business, energy and petroleum technology, environmental sciences, fire and emergency services, health and wellness, human services, interior design technology, trades and technology, and university transfer. For more information on Lakeland College's interior design technology program, visit http://www.lakelandcollege.ca