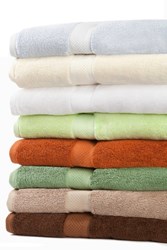 Evansville, Indiana (PRWEB) December 16, 2013
ExceptionalSheets.com announces the expansion of their popular Bamboo linen product line to the delight of customers worldwide. Based on popular request, these new luxury linen pieces are now immediately available through their specialty linen ecommerce site.
"Our new bamboo products are some of the best items that we have ever sold, and are quickly becoming the most popular as well," said Kyle Schmidt, Business Development Associate for ExceptionalSheets. "They are super absorbent, unbelievably soft and can drastically improve your sleep and bring a new level of comfort to your everyday life."
Exceptionalsheets.com already offered an extra plush bamboo top mattress pad which quickly became a consumer favorite. Most recently, they added several new Bamboo based products to include ultra soft Bamboo sheet sets and towels.
The new luxurious towel set is made from a blend of rayon from Bamboo and combed cotton allowing it to absorb moisture quickly and provide a soft, plush feel. The towels also feature antibacterial and hypoallergenic properties. As the fabric is made of 40% renewable Bamboo, it provides a more Eco friendly alternative to the market.
Exceptional Sheets has also introduced soft Bamboo sheet sets to allure even the most discriminating buyers. Customers have consistently ranked their Bamboo products among the most comfortable providing a quality night's sleep in a luxurious environment.
Consumers who prefer to avoid big holiday crowds and abundant traffic appreciate the ease of ordering online. ExceptionalSheets.com continues to offer the most affordable luxury online linens with sales and special deals being offered daily.
Exceptional Sheets is among the nation's leading online retailers for luxury Egyptian cotton linens and bedding. Their product line includes 100% Egyptian cotton bed sheet sets, mattress pads, duvet covers, bath linens and pillow cases. Their luxury linens are made from the cotton grown and harvested in the Egyptian Nile Delta where it is considered among the world's finest for comfort and luxury.
For more information on the luxury Egyptian linens and bedding products provided by Exceptional Sheets or the online special, visit the website or call our toll free customer support line at 1-800-977-7433.