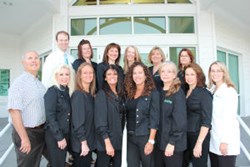 Palm Harbor, FL (PRWEB) December 13, 2013
Dr. Dan Knellinger can now perform laser gum surgery to prepare Knellinger Dental Excellence patients with gum disease and missing teeth to receive dental implants. Patients who receive this laser surgery in Palm Harbor can enjoy improved oral health with minimal inconvenience.
For many patients, the Laser Assisted New Attachment Procedure (LANAP) is a welcomed alternative to the traditional treatments for periodontal disease that patients are required to undergo before the implant procedure can be performed. LANAP allows patients minimal pain and recovery time while achieving excellent results. The treatment uses a laser to treat gum disease while leaving the healthy tissue intact. The laser stimulates the bone, which helps keep the bone from resorbing and losing density, particularly if teeth have been lost. Bone regeneration can help save teeth that might have otherwise needed extraction.
Dental implants offer patients remarkable, long-term benefits. Other tooth replacement options aren't in contact with the bone, so they don't do anything to stimulate it or limit resorption. As a result, patients who are missing several teeth and have dentures may see noticeable changes in jawbone size and in the shape of the mouth over time. In contrast, an implant is set in the bone, which prevents loss of bone density. Dental implants optimally should not be placed when gum disease is present in the bone, and this is why Dr. Dan Knellinger offers both dental implants and laser gum surgery in Palm Harbor. Removing the gum disease helps Dr. Knellinger set his dental implant patients up for success by removing diseased tissue and stimulating bone regrowth.
Implants aren't the optimal solution for every patient, but with the advantages LANAP offers over traditional surgery, patients who previously weren't a good match for implants because of periodontal disease may now be able to receive them. Knellinger Dental Excellence patients will enjoy numerous benefits after receiving this laser surgery in Palm Harbor, including bone regeneration and the treatment of gum disease. More details about LANAP and the long-term benefits of implants can be found at the Knellinger Dental Excellence website.
About the Practice
Knellinger Dental Excellence is a general practice offering patients personalized dental care in Palm Harbor, Florida. As a father-daughter team and Palm Harbor natives, Dr. Knellinger and Dr. Verkler both attended the University of Florida and University of Louisville School of Dentistry. They are part of one percent of dental professionals providing the most recent FDA cleared laser procedure for gum disease treatment. To learn more about Knellinger Dental Excellence and their services visit their website at http://www.palmharbordentistry.com and call (727) 785-3383.