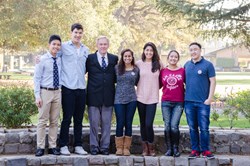 "The immediate response of the Menlo College community to the aftereffects of the Philippine disaster has been phenomenal," James J. Kelly, President, Menlo College
Atherton, California (PRWEB) December 16, 2013
"We never had to ask for help," said Jimmy Go, President of the Menlo College Filipino Club, as he described the immediate response of the College community to the aftereffects of Typhoon Haiyan, which levied overwhelming destruction in the Philippines on November 8. Go and students met this week to send proceeds from the first relief fund check that they earned by organizing a dinner, cash drives, and e-donations.
"The majority of our funds came from students and faculty," added Matthew Ganibi. The student organizers of the Menlo College Philippines Relief Fund were able to send a contribution of over $5,000 to the Rotary Club, Bacolod Chapter in the Philippines. The funding will provide resources for six provinces in Western Visayas including Capiz, Aklan, Iloilo, Antique, Kalibo and Bacolod.
"My uncle, Jonathan Avelino is on the board of the Rotary, so we are confident that he will make sure that every penny of the funding is put to the best use possible," said Samantha Tongo, who is from Manila, Philippines. "The Rotary Club will create packages of food and supplies to help to bring a bit of holiday happiness for Philippine residents."
"Even my friends from England skyped to ask how they could help us with our relief fund efforts," said Vicky Schultz. "We plan to continue this," said Andrew Vargas. "We hope people will continue to send money to the relief fund." Alessandra Camcam from Muntinlupa City, Philippines said, "It is a reassuring way to make the holiday special, knowing that someone's uncle will make sure that the funds are spent in the right way."
"In our country, we are resilient," said Samantha Tongo. "They call it the Philippine spirit." Donations can be made online at http://www.menlo.edu/typhoon.
About Menlo College
Menlo College, Silicon Valley's Business School, was established in 1927. It is a private, four-year, accredited, residential, non-profit college located in Atherton, California. Menlo College's mission is to develop future leaders through a liberal arts-based business education that integrates academic study and fieldwork in a Silicon Valley environment unmatched in its potential for innovation.