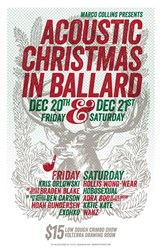 "Hollis Wong-Wear NEVER plays acoustic solo shows! She always on stage with Macklemore or her group, The Flavr Blue, so this is very special," Collins said..."And Wanz, from Macklemore's "Thrift Shop," performing acapella. "This is f**kin' awesome'!"
Seattle, WA (PRWEB) December 13, 2013
A rare opportunity to hear solo acoustic performances of famous originals and Christmas songs performed by Hollis Wong-Wear (Macklemore, The Flavr Blue), Wanz (featured on Macklemore's "Thrift Shop"), Braden Blake (former frontman for Super Deluxe) and more of Seattle's most celebrated musicians is the concept for "Acoustic Christmas in Ballard," a two-night music event curated by one of the only DJs ever inducted into the Rock and Roll Hall of Fame, Marco Collins. The "Acoustic Christmas" shows will be performed at the 125-seat Volterra Drawing Room Dec. 20 and 21 at 8 p.m. Tickets are on sale for $15 at BrownPaperTickets.com, or by calling Brown Paper Tickets' 24-hour ticket concierges at 1-800-838-3006.
"I thought it would be a challenge to the artists to strip down their songs AND have to learn a few Christmas songs!" Collins said. He was the first DJ to give airplay to Pearl Jam, Nirvana, Death Cab for Cutie, and many others who became the sound the nation embraced for more than a decade. "The eclectic line up kinda reflects my taste in music. I think it more than works to put rock bands, hip-hop artists and acoustic musicians on the same bill."
Here is the line-up for each performance:
Friday Dec. 20: Kris Orlowski, Braden Blake (Superdeluxe), Ben Carson (Hot Bodies In Motion), Noah Gunderson and EXOHXO.
Saturday Dec. 21: Hollis Wong-Wear (Macklemore, The Flavr Blue), Hobosexual, Adra Boo (Fly Moon Royalty), Wanz (Macklemore's "Thrift Shop") and Katie Kate.
"Hollis Wong-Wear NEVER plays acoustic solo shows! She always on stage with Macklemore or her electronic dance group, The Flavr Blue, so this is very special," Collins said. "Hobosexual is one of Seattle's noisiest rock duos, so seeing them in an acoustic mode is gonna be amazing. And Wanz, yes, Wanz, from Macklemore's "Thrift Shop," performing acapella. 'This is f**kin' awesome'!"
Collins even chose the venue with care. "The Volterra Drawing Room is very exciting to me because, with only 125 seats, the venue is so intimate. Ballard also looks amazing during the holiday season," he said. "We'd love to invite people to make it a night! Have dinner next door at Volterra and then enjoy a holiday show curated for a very different listening experience."
The all-ages show will be family-friendly, and a full bar will be open during the event.
###
Brown Paper Tickets (http://www.BrownPaperTickets.com), the world's only Not-Just-For-Profit ticketing company, creates stronger communities through events, donations and a business model that prioritizes helping people and supporting community over making profits. The company offers sophisticated ticketing and event registration tools at the lowest fees in the industry, donates 5 percent of its profits to causes in the category of each ticket buyer's choice, pays employees a week's salary each year to work for nonprofits, and employs a team of "Doers" to build healthy communities.