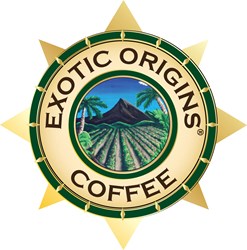 A deeper experience for the adventurous palate...
Las Vegas, NV (PRWEB) December 18, 2013
Exotic Origins Coffee continues to percolate partnerships in the wine industry. The Company's global portfolio of rare coffees were featured for the first time in a buzzing November Wines Du Jour show.
The two agricultural industries share corresponding equivalence once you relentlessly pursue flawless beans and roasting techniques of exceptional 88 point rated and above coffee. Coffee expert tasters measure similar features as wine, specifically the mouth feel, aroma, sweetness, acidity, flavor characteristics and aftertaste.
"Les Kincaid presents an insider journey for customers to explore deeper experiences with great wine and food. The show format created a great adventure for tasting select single origin coffees in our portfolio alongside fine wines from Fess Parker Winery," explains Scott Plail, Founder of Exotic Origins Coffee.
"There is definitely an educational component for consumers about the difference. The wine industry has done an incredible job and continues to deliver to their constituents. Our categories do not compete, therefore it makes perfect sense to partner for the benefit of our farmers, connoisseurs and enthusiasts alike," states Priscilla Broward, VP Sales & Marketing. "We believe that selecting a fine coffee should be as unique and personal as selecting wines from your cellar."