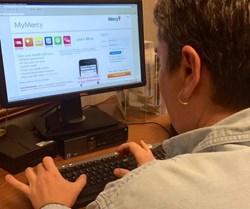 I really didn't have the time to drive all the way to the doctor's office.
Springfield, Mo. (PRWEB) December 16, 2013
The gifts are packed, the electronics are unplugged and the pets have been dropped off at the kennel, but there's one thing holiday travelers won't need to check off travel lists: their Mercy doctors.
Primary care physicians can be at patients' fingertips no matter where they're celebrating. More adults are now scheduling e-visits each month through MyMercy, an online service that gives patients in Arkansas, Kansas, Missouri and Oklahoma the ability to track health history, schedule appointments, contact a doctor and renew prescriptions.
"I started e-visits the moment I signed up for MyMercy and now I'm a frequent user," said Joann Wolf, a small business owner in Springfield, Mo. "I've been having more things going on in the last few months and I really didn't have the time to drive all the way to the doctor's office." Better yet, Wolf didn't even have to put her shoes on.
For the price of a typical co-pay, busy patients can get secure care and the coordination of the Mercy care team for non-urgent medical conditions like coughing, heartburn, red eye, back pain, sinus problems and diarrhea. "I just needed something to kick my sinus infection," added Wolf. "It's important to know your doctor and your body, but for bigger issues, they'll recommend you schedule an in-person visit."
Every adult primary care physician at Mercy can now be e-visited, including Dr. Rick Williams in Ozark, Mo., who has seen the increase firsthand. "It's so simple. Patients can do an e-visit any time of day, at their convenience. All you need is Internet access. You don't have to get into a car and drive to a waiting room, where you might be exposed to someone who may have a highly contagious infection."
Patients must have a Mercy primary care physician and a MyMercy account to set up an e-visit using a computer, tablet or mobile device. "They'll fill out a questionnaire, navigate through a decision tree and then provide additional details," explained Dr. Williams. "That information is then delivered in a secure email to my inbox and I'll diagnose." At that point, it can be as easy as locating a nearby pharmacy for the medication to be electronically filed and picked up.
"My patients love having their problems handled by their personal physician while on vacation, rather than sitting in an urgent care clinic in a state far from home," said Dr. Cheryl Fulton in Lowell, Ark. "Getting access to a doctor can be a challenge, so by increasing my availability, everyone wins."
More than 400,000 people have signed up for MyMercy and the number of e-visits has quadrupled within the last few months. E-visits are intended to be treatment, not advice or information. Patients can expect a same-day response from their doctor, as long as it's submitted before 4 p.m. on a regular business day. Plans are also in place to expand e-visits to pediatricians.
"It's definitely a convenience," added Dr. James Rogers, who helped pioneer the program at Mercy. "It's a deeper and broader attempt at access. We continue to be mindful of the need for access among all of our patients."
"It has strengthened my relationship with my doctor," said Wolf, who encourages others to sign up. "It looks like it's going to be a rough winter. If you're not up to getting out in 12 degree weather, e-visits are perfect. Or if you're heading out of town, grab the laptop just to play it safe."
If you have a Mercy doctor and would like to sign up for a MyMercy account, visit http://www.mymercy.net.
Mercy is the sixth largest Catholic health care system in the U.S. and serves more than 3 million people annually. Mercy includes 32 hospitals, 300 outpatient facilities, 39,000 co-workers and more than 2,000 integrated physicians in Arkansas, Kansas, Missouri and Oklahoma. Mercy also has outreach ministries in Louisiana, Mississippi and Texas. For more about Mercy, visit http://www.mercy.net.