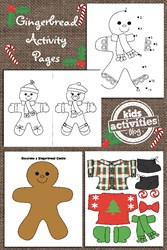 Let the kids color or paint together with visiting relatives and friends.
Dallas, TX (PRWEB) December 26, 2013
Gingerbread people are cute and adorable. A set of super cute gingerbread activity pages and fun elf coloring pages have been released on Kids Activities Blog. The holiday activity pages are great to do together with family and friends who are visiting during the holiday.
Gingerbread men are the perfect backdrop for all sorts of creative holiday decorations. The four-page gingerbread man set is filled with lots of holiday cheer. It includes a simple holiday activity page dot-to-dot shaped like a gingerbread man and a plain toasty gingerbread man.
A cute girl and boy gingerbread sheet comes with an additional page filled with doll clothing in green, red, and plaid. Use anything but markers and pens to color the pages or simply transform them into placemats for the next holiday party.
With elves showing up everywhere this holiday season, a set of fun elves with hats will get any coloring enthusiast excited. The five festive elves are wearing hats in need of a make-over. Let the kids be elf-hat designers. Let them create the perfect headpiece for the elves that are too busy at Christmastime to decorate their own hats.
For detailed instructions and to get additional creative activities for Christmas, check out Kids Activities Blog this week. Come get inspired to let the kids have fun with cute holiday coloring pages.
About Kids Activities Blog
Kids Activities Blog is a website created by two moms (who collectively have 9 children), Rachel Miller and Holly Homer from June Cleaver Nirvana. It is their daily goal to inspire parents and teachers to play with kids. This interactive website publishes simple things to do with kids twice a day. Kids Activities Blog is a great tool for moms and teachers to find kid-friendly activities that create memories and sneak learning into the fun.