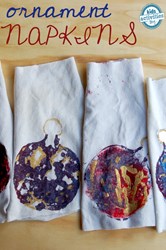 Christmas ornament napkins make great homemade gifts for family and friends.
Dallas, Texas (PRWEB) December 20, 2013
Christmas is just around the corner. Christmas ornament napkins and over 70 last minute Christmas printables have been released on Kids Activities Blog. Let the holidays begin with great tips from seasoned Moms.
Add a festive spirit to the holiday meal with cute homemade Christmas ornament napkins. The napkins are easy to make with even the youngest kids. SImply cut a pomegranate in half and use it as the ornament shaped stamp.
Cut old white T Shirts into rectangular napkins. Use a sponge to apply a variety of different colored Acrylic paints including gold on the cut pomegranate. Stamp the ornament several times onto the napkin.
Let the paint completely dry. The paint will be hard around the edges until the napkins have been washed. Enjoy the set of napkins at the dinner table or use them as homemade gifts for family and friends.
Kids Activities Blog has compiled a laundry list of printables perfect for this season. The printables are categorized by activities, coloring pages, and holiday decor.
The fun seasonal activities include building a Christmas tree out of a set of circles, squares, and other shapes, cutting out fun Christmas photo props, a Christmas treasure map, and a cute gingerbread printable activity.
The holiday coloring pages include an elf hat decorating page, Phineas and Ferb Christmas themed pages, and adorable Santa coloring pages. Use anything but crayons and markers to color the pages. Let the kids have fun tracing the outline of the designs with colored glue or filling in the pages with small flat marbles.
Another great idea is laminating the printables to use them over and over again. Holiday door hangers, buddy the elf quotes, and Christmas chalkboard printables can transform into fun holiday decor this season.
For detailed instructions and to get additional fun festive tips, check out Kids Activities Blog this week. Come get inspired to create lasting memories together with the kids.
About Kids Activities Blog
Kids Activities Blog is a website created by two moms (who collectively have 9 children), Rachel Miller and Holly Homer from June Cleaver Nirvana. It is their daily goal to inspire parents and teachers to play with kids. This interactive website publishes simple things to do with kids twice a day. Kids Activities Blog is a great tool for moms and teachers to find kid-friendly activities that create memories and sneak learning into the fun.