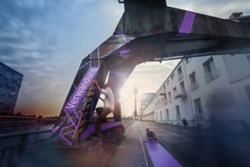 For 4 months, Quadriennale Düsseldorf 2014 makes one of Europe's art capitals an even bigger destination for art enthusiasts from around the world.
Düsseldorf, Germany (PRWEB) December 16, 2013
Quadriennale Düsseldorf 2014 is a major fine arts festival that connects 13 of the city's most important art venues for 4 months under the theme "Beyond Tomorrow – How Artists See and Saw the Future," and makes one of Europe's art capitals an even bigger destination for art enthusiasts from around the world. Quadriennale Düsseldorf 2014 takes place from April 5 – August 10 and offers diverse exhibits by artists and many glimpses of our future through the artists' eyes.
"We want to spark visitors' curiosity about the future and encourage them to envisage what might lie ahead in the years to come," says Hans-Georg Lohe, Düsseldorf City Counselor and Managing Director of the city's 2014 Quadriennale and its future-focused theme.
All exhibits adhere to the theme, but each exhibit will focus on different concepts of future foretold by the art on display. To that end, 11 concepts relating to future were given to the curators at the various venues and institutions as elements to connect to all others in the festival's network. The concepts are: reawakening, earth, transformation/ progress, experiment, utopia, heaven, fire, retreat, light, curiosity. "This is the first time in Germany that so many institutions are joining forces to develop a common leitmotif and to venture a new approach to art mediation," says Dr. Wolfgang Ullrich, Professor of Art History and Media Philosophy, who developed the festival's thematic concept in cooperation with the curators.
A sound installation on the opening night was composed for the festival by sound artist Rochus Aust using a new instrument he designed for the occasion, the "Quadraphone." His composition "Fanfara Futurista" will be played on this instrument from the rooftops of all participating venues simultaneously to welcome the whole city to the festival.
Other highlights include the following exhibits: "Alchemy and Art – The Secret of Transformation," at Museum Kunstpalast, featuring works by Joseph Beuys, Jan Brueghel d.Ä., Albrecht Dürer, Max Ernst, Rembrandt van Rijn, and Peter Paul Rubens; "Kandinsky, Malevich, Mondrian - The White Abyss of Infinity" at K20 Museum; and "Beneath the Ground. From Kafka to Kippenberger" at the K21 Museum.
For a full program of Quadriennale Düsseldorf 2014, visit http://quadriennale-duesseldorf.de.
The city's tourism office is offering hotel and city specials for Quadriennale Düsseldorf 2014. The travel package called "Quadriennale 2014" can be booked right from the tourism office's website at http://www.duesseldorf-tourismus.de/en/accommodation/hotel-packages/hotel-package-quadriennale-2014/. Prices start at €89 per night per person based on double-occupancy for a 3-star hotel in the city center and at €119 per person for a 4-5 star hotel. All packages include breakfast, a Düsseldorf Welcome Card (free public transportation within city limits, 1 ticket to Quadriennale Düsseldorf 2014, plus more than 40 free or reduced admissions to city attractions), a city information package, and a MERIAN city guide.
# # #
Düsseldorf Marketing & Tourism GmbH is the visitors and convention bureau of the city of Düsseldorf. Its responsibilities include tourism and city marketing, as well as conference and meeting marketing, hotel reservation services, fairs and convention services, city event ticket sales and advance ticket reservations. For more information, visit http://www.visitduesseldorf.de.
Düsseldorf Airport, Germany's Next Generation HubTM, offers several non-stop flights from US & Canadian cities (Atlanta, Chicago, Ft. Myers, Los Angeles, Miami, New York, Newark, Toronto), as well as convenient connections to many European cities. For more information about the airport, visit http://www.fly2dus.com.