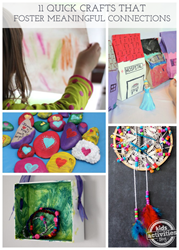 Spend meaningful time with the kids by making crafts this season.
Dallas, TX (PRWEB) December 18, 2013
Quick crafts are a great way to spend meaningful time with the kids. Seasoned moms are sharing favorite crafts and a laundry list of healthy meal ideas on Kids Activities Blog. Let the holiday season begin with fun kid tested ideas for home and school.
Fun crafts are perfect for a little creative time at home or school. It is such a good feeling to do something creative and spend meaningful time together with the kids. Making heart stone gifts are a perfect craft that reminds the kids and parents to be thankful for many things in life. Talk to the kids while making the crafts about being grateful and showing gratitude.
Another tip is making scented light catchers. These light catchers can be easily made with materials found around the house. Make a set of lovely lanterns that will light up the table for a party or just a weekly night dinner.
The classic friendship bracelets make a fun craft for the afternoon. Talk to the kids about the importance of friendship and what it means to be a great friend. Building a city out of paper bags is easy to do with items found around the house. Building ideas include a hospital, a police station, a grocery store, a bakery, and a school that will transform into a fun afternoon of creative and imaginary playtime.
Kids can get very excited and dare to try new healthy food when the food is simply prepared a creative fun way. One does not have to be a chef to follow the hands on tips published on Kids Activities Blog. Kids that refused healthy food before may get hooked into finally trying the healthy vegetables and fruits with these simple hands on ideas.
The healthy meal tips include a homemade potato gnocchi plate with mushrooms and ricotta that looks like a zebra. Another fun and simple idea is a vegetable skeleton. The skeleton includes just the right amount of veggie bites that make it look like a fun appetizer plate to kids.
How about a snail and butterfly lunch made out of mashed potatoes, mushrooms, and ham? Serve it with some cheese and ketchup and the kids will love this fun plate. Try serving an irresistible lion sandwich that the kids will ask for week after week. The sandwich is made with cheese, bread, carrots, and some other veggies.
A yummy giraffe dessert tops the list. The dessert is made with fresh mangos, yoghurt, and lots of dried fruit. A fun turtle sandwich is perfect to sneak in some extra protein. A shrimp turtle recipe is perfect for the little ones to try sea food for the first time.
Make a quick spider snack out of bananas, pretzels, and raisins. Another cute idea is turning the regular breakfast pancake into a fun bear face with apples. The list is endless.
For detailed instructions and to get additional fun tips, check out Kids Activities Blog this week. Come get inspired to have a blast with the kids this season.
About Kids Activities Blog
Kids Activities Blog is a website created by two moms (who collectively have 9 children), Rachel Miller and Holly Homer from June Cleaver Nirvana. It is their daily goal to inspire parents and teachers to play with kids. This interactive website publishes simple things to do with kids twice a day. Kids Activities Blog is a great tool for moms and teachers to find kid-friendly activities that create memories and sneak learning into the fun.