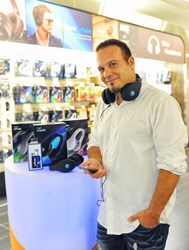 Morgan Hill, Calif. (PRWEB) December 16, 2013
"Captain Oveur, white courtesy telephone. Captain Clarence Oveur. Please pick up the nearest white courtesy telephone…"
Velodyne (http://www.velodyne.com) and APW Brands (http://www.apwbrands.com) have a solution for travelers whose latest airport experience reminded them of a scene out of the movie "Airplane!" The two companies have partnered to promote Velodyne's new vQuiet® noise-canceling headphones – the ideal solution for stressed out travelers looking to tune out airport, airplane and other ambient noise.
The promotion, which features special store-entry signage, also displays Velodyne's vFree® Bluetooth wireless and vLeve® headphones with 35 choices of skins specially designed by Marta Hall, Velodyne president. All models are available for in-store demonstration at 20 Airport Wireless and 15 Techshowcase stores located in 18 airports nationwide.
"Increasingly, travelers are turning to noise-canceling and other types of headphones to tune out the ambient noise that disrupts their enjoyment of music, videos or even a quick nap between or during a flight," said Hall. "At the same time, they are seeking headphones that enable them to express their unique sense of fashion and style. APW Brands is the perfect partner, and airports are the perfect venue for demonstrating the many features of the 'v' line of headphones."
Velodyne vQuiet headphones are designed to reduce jet engine and other ambient noise by 90 percent while delivering the highest-quality musical or other audio experience. A control module on the vQuiet's detachable audio cable enables users to seamlessly transition from listening to music or watching video to talking on the phone when connected to devices that have these features. The headphones are available in matte black with a diamond-blue Velodyne insignia on each ear cup that serves as a bypass/mute button, and are foldable for easy storage.
About Velodyne
Founded in 1983 and based in California's Silicon Valley, Velodyne, Inc. is a diversified technology company known worldwide for its high-performance audio equipment and high-definition LiDAR sensors for autonomous vehicle applications. The company is widely recognized as the leading manufacturer of high-performance, low distortion powered subwoofers and an expanding line of technically innovative in-ear and over-ear audio products with interchangeable custom-designed skins that enable audiophiles to personalize the look of their headphones. Velodyne products are available online at http://www.velodyne.com and from a select group of authorized dealers, custom installers and distributors worldwide. Since 2007, Velodyne's LiDAR division has emerged as a leading developer, manufacturer and supplier of high-definition LiDAR sensor technology used in a variety of commercial autonomous vehicle applications, including 3D mapping and surveying. For more information, visit http://www.velodynelidar.com.