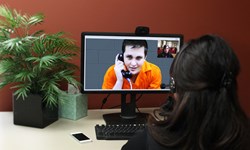 These technologies will help to further offset costs while at the same time helping inmates stay connected with loved ones on the outside.
Gainesville, FL (PRWEB) December 15, 2013
In 2009, The Alachua County Jail purchased Renovo Software's video visitation system through Stanley Security. Since then, Alachua has expanded their use of the system in several phases. In the latest upgrade, at-home internet video visits will be made available using the same web-based system that is already in use.
"We have been able to systematically upgrade as technologies have evolved and as time and budgets have permitted," stated Major Charlie Lee of the Alachua County Jail. Initially, video stations and web-based scheduling was implemented for inmates in one housing unit, and online scheduling of face-to-face visits was later added for the rest of the jail's housing units. Over 24,000 visitors have been registered in the system since it was put in place at the 1,000 bed facility four years ago. Today, visitors schedule an average of over 2,400 visits through the system every month.
The next phase will be a transition to on-site video visitation in the remaining housing units and the addition of at-home internet visitation. Visitors log in to http://jailvisitation.alachuasheriff.org and choose from a 20 minute visit for a small fee or an on-site video visit for no charge. The new at-home visits will initially be offered at no charge during the holiday season through the 31st of December.
"With each phase of implementation, we have been able to not only offer better service to the public, but improve the efficiency and security of the visitation process," stated Major Lee. "These technologies will help to further offset costs while at the same time helping inmates stay connected with loved ones on the outside—something that is an important factor in successful reentry after inmates are released."
Just as with on-site video visitation, Renovo's system will allow staff to monitor and record internet visits, and if rules are violated, the visit can be cut short. "There is even an option for a virtual check-in," said Dave Henion, Vice President of Sales at Renovo Software. "Scheduling, restrictions, quotas—all the policies for internet visits are completely integrated and configurable in the same, web-based interface that Alachua already uses to manage and schedule their face-to-face and on-site video visits. Internet visits will just be another option visitors see when they log in to schedule a visit."
About Renovo
Renovo Software's visitation management platform, VisManager, is designed to help jails and prisons improve efficiency, cut costs, and generate revenue through visitation. Renovo has aided large and small correctional facilities across the continent in streamlining inmate visitation for almost a decade. Renovo's comprehensive system manages, schedules, and automates on-premise video visits, internet video visits and face-to-face visits through a single web-based interface. With over 100 visitation customers across North America, Renovo continues to introduce next generation features and functionality.