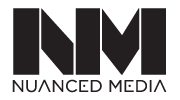 Tucson, AZ (PRWEB) December 14, 2013
Nuanced Media recently signed a contract with Intel Lock, a local Tucson locksmith service. The work agreement includes plans for a new landing page, SEO, and an integrated internet marketing campaign.
Intel Lock in Tucson is a highly skilled locksmith company employing qualified locksmiths technicians that are always available and prepared to help the community with all their locksmith needs. Intel Lock can help with any locksmith need for residential, commercial, or automotive.
Nuanced Media's assistance will help Intel Lock focus on doing what they do best. A new landing page will help direct visitors to the appropriate information and further enhance Intel Lock's professional image. The various digital marketing approaches will drive increased traffic and customers to the new page.
Nuanced Media founder Ryan Flannagan says, a quality website design is crucial to getting the best results. Flannagan and the Nuanced Media team meets with clients on a regular basis and helps them chart their digital future.
In recent months, the company has helped clients raise their Google search result ranking from about 30 to being listed in the very top results. Studies have consistently shown that 68% of Google users only click on the top three links.
Flannagan said knowing what your company wants from SEO, and working with the right Internet services firm on newer marketing technology is crucial to a company's website design.
About Nuanced Media
Nuanced Media is a digital marketing and graphic design firm. The company specializes in strategic, multilayer marketing campaigns and efficiently crafted, user-friendly websites. Based in Tucson, the company has a variety of clients throughout Arizona, California, and Texas. For more information, please view Nuanced Media.