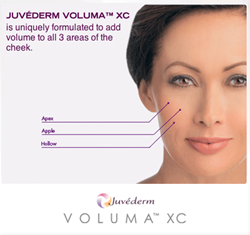 Las Vegas, Nevada (PRWEB) December 20, 2013
Juvederm Voluma is the latest of the Juvederm range of hyaluronic acid fillers and is the only FDA-approved filler to restore mid-face volume loss. It is approved for use in the central cheeks and cheekbone.
Generally speaking, the price will be $850 for a 1ml syringe, and $750 for any additional syringes. The average patient usually needs two syringes for full correction. Common areas include the cheeks, cheekbones, and chin. Additionally, due to its versatility it is also suitable for adding definition to the jaw line.
How does Juvéderm TM VOLUMA TM work to achieve its results?
According to a leading Las Vegas dermatologist, Dr. F. Victor Rueckl, "an attractive face is characterized by smooth, round contours, high cheekbones and a thin, well-defined jaw line. These features together comprise the 'triangle of beauty' or 'heart of face', with its base at the forehead and the peak below at the chin."
"As one grows older, one of the telltale features is the loss of volume in one's face. As we age, facial fat loss, gravity and loss of the skin's natural elasticity result in reversing the triangle's composition, leading to a narrower, less youthful forehead and temple area, and a wider, heavier jaw line," stated Rueckl.
What is JUVÉDERM VOLUMA™ XC injectable gel?
JUVÉDERM VOLUMA™ XC injectable gel is the first and only filler FDA-approved to instantly add volume to the cheek area. It gives you a subtle lift, helping to restore contour and a more youthful profile, for up to 2 years, in patients over the age of 21.
It's different than JUVÉDERM® XC and works on a different area of the face. JUVÉDERM® XC smoothes out moderate to severe wrinkles and folds around the nose and mouth, like parentheses. JUVÉDERM VOLUMA™ XC, however, adds volume to the cheek area.
What else should you know about JUVÉDERM VOLUMA™ XC?

First and only Hyaluronic Acid (HA) filler FDA-approved to instantly add volume to the cheek area, resulting in a subtle lift
Clinically proven to last up to 2 years with optimal treatment
JUVÉDERM VOLUMA™ XC is from the makers of the #1 family of fillers
After 24 hours, you should be able to resume your normal activities
Side effects are moderate and generally last 2 to 4 weeks. Common side effects include temporary reactions at the treatment site such as tenderness, swelling, firmness, lumps/bumps, bruising, pain, redness, discoloration, and itching.
"If patients wish to know if this is a procedure that would work for them, they should call my office and arrange a free consultation," continued Dr. Rueckl. For more information, call Lakes Dermatology at 702-869-6667 or visit lakesdermatology.com.
References:
1.)Dr. F. Victor Rueckl, 702-869-6667, lakesdermatology.com
2.) Allergan website, http://www.allergan.com