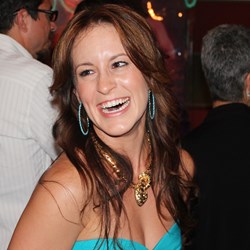 I have truly been blessed with many opportunities in all my pursuits, and, by participating in Queen of the Universe, I hope to provide more kids around the world with the same possibilities for success in life.
Los Angeles, CA (PRWEB) December 19, 2013
Joyce Giraud's "Queen of the Universe" unites the intelligence and beauty of women around the world, in the search for the perfect ambassador of love, hope, and peace to be crowned Queen of the Universe. Contestants must be born in, or have blood from the country they represent.
This year, screenwriter, producer, actress, and multi-passionate entrepreneur, Kim MacKenzie, was chosen to represent Norway. Born in Burbank, Kim's Norwegian heritage derives from her mother's side, who emigrated to America in the 1800s.
"All our participants went through an intensive interview, where the following virtues were tested: Independence, Beauty, Intelligence, Ambition, and Inspiration (among others). We believe Kim possesses these values with the potential to be a role model for young women all around the world, which therefore makes her an excellent candidate for 'Queen of the Universe,'" Joyce Giraud, President of Queen of the Universe, declared.
Kim MacKenzie certainly fits the bill for Queen of the Universe. As a screenwriter, her first feature, BRO', about an impressionable kid who gets caught up in the hardcore life of freestyle motocross, was distributed nationwide by Lionsgate in December 2012. She studied acting and playwriting at the acclaimed Playhouse West under the tutelage of Robert Carnegie and Tracy Pellegrino, and has appeared in numerous films and TV shows including Curb Your Enthusiasm, The Ghost Speaks, and Vampire Club 3D.
As a longtime health advocate, Kim shares her love of healthy living, as President of The Body Archer, by helping people nationwide relieve back pain with her company's doctor-recommended back stretching chair. She also writes for notable health and wellness publications such as Spafinder Wellness 365, Become Natural, Classtivity, The Care Co, and Hearts of Gold. In addition, she owns her own Burbank-based private Pilates studio, Fitness with Kim, which she uses to teach and inspire people to live healthy, happy, and fit lives. Recently, Kim has become a member of the WEGO Health Activist Speakers Bureau and is a nominee for the WEGO Health Awards' Rookie of the Year for her blogging work with The Body Archer, which is also nominated for Best Kept Secret.
And, Kim is no stranger to pageants. She placed in the top 5 in Miss Teen Burbank, and won Miss Congeniality in the Miss Teenage California Scholarship Pageant.
"Pageants have been such a blessing for me," Kim stated. "They really helped me come out of my shell. I am so honored to be a part of such a talented, inspiring group of girls. And the best part is that we're helping raise funds and awareness for UNESCO and promoting education for children in need. As Nelson Mandela said, 'Education is the most powerful weapon which you can use to change the world.'" Kim's work this year as a mentor for the Spark Program is proof of that.
Aside from running for Queen of the Universe, 2014 already promises to be a big year for Kim MacKenzie. Not only is she getting married, but she is also in development with two screenplays, including Dwindle Down, which she co-wrote and will produce with her fiancé, Spike Spencer. On top of that, Kim is scheduled to play Morgan Donlevy in Jim Towns' "13 Girls," which will begin filming in 2014. Likewise, her company, The Body Archer, is taking some big strides next year. Beginning in 2014, they will be working with the renowned Richards Group, which has helped launch notable brands such as Chick-fil-A, Home Depot, and Heelys, to name a few.
Crowned Queen of the Universe or not, Kim will continue her humanitarian work in 2014 with the Spark Program, Preventing Abuse Foundation, Habitat for Humanity, and Project: Hollywood Cares. She will also be running the Hollywood Half Marathon in April to raise funds for the Spark Program.
"Giving back is such an integral part of who I am. My partner [Robert Wald, CEO of The Body Archer and I even integrated it into our business model by supporting causes like Spark, the Spina Bifida Association, and Project Eve's Shop the Movement for ACCION East and Online Women's Programs," Kim affirms. "I have truly been blessed with many opportunities in all my pursuits, and, by participating in Queen of the Universe, I hope to provide more kids around the world with the same possibilities for success in life."
The Queen of the Universe Pageant will take place in Los Angeles in 2014.