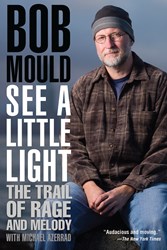 "As a long time fan, I feel so grateful that Bob chose to share his life story in such a candid and open manner. See A Little Light stands tall with the greatest rock and roll memoirs of all time."—Benjamin Gibbard, Death Cab for Cutie
(PRWEB) December 16, 2013
The Bay Area Reporter featured Bob Mould's See a Little Light: The Trail of Rage and Melody as a top gift guide pick for 2013. Chosen as a "hot read for cold months," the book will be "a great gift for the music-lover on your list."
From the start, Bob Mould wanted to make Hüsker Dü the greatest band in the world—fast and loud, but with melody and emotional depth. In See a Little Light, Mould finally tells the story of how the anger and passion of the early hardcore scene blended with his own formidable musicianship and irrepressible drive to produce some of the most important and influential music of the late twentieth century.
For the first time, Mould tells his dramatic story, opening up to describe life inside that furnace and beyond. Revealing the struggles with his own homosexuality, the complexities of his intimate relationships, and his own drug and alcohol addiction, Mould takes us on a whirlwind ride through achieving sobriety, his acclaimed solo career, creating the hit band Sugar, a surprising detour into the world of pro wrestling, and most of all, finally finding his place in the world.
A classic story of individualism and persistence, Mould's autobiography is an open account of the rich history of one of the most revered figures of punk, whose driving force altered the shape of American music.
What People Are Saying about See a Little Light:
"As a long-time fan, I feel so grateful that Bob chose to share his life story in such a candid and open manner. See a Little Light stands tall with the greatest rock and roll memoirs of all time." —Benjamin Gibbard, Death Cab for Cutie
"A beautiful, painful, frank memoir." —The Wall Street Journal
BOB MOULD is an American musician, singer/songwriter, producer, and DJ. An original member of the influential 1980s band Hüsker Dü, he released several albums after the band separated, including Workbook, Body of Song, and Life and Times, as well as Sugar's legendary album Copper Blue. He lives in San Francisco.