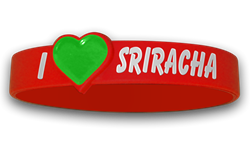 Houston, Texas (PRWEB) December 16, 2013
If you haven't heard of the rapidly growing hot sauce Sriracha, you might now. A judge in California is making the company shut down its plant at least temporarily after complaints from local residents.
The backlash to this news has been so great that Houston-based Wristband Connection has created a unique silicone wristband in support of the Sriracha brand. When the company posted a photo of the new wristband on its Facebook page, it garnered a tremendous response, with more than 3,600 shares, 5,400 "likes" and 280 comments and counting from users — all weighing in on the controversy. If the post reaches 10,000 shares by December 30, Wristband Connection will give away the item to customers for free.
According to a November 27 article in the Los Angeles Times, Huy Fong Foods, the company that makes Sriracha, has been ordered to partially close its Irwindale, Calif. processing plant by a Los Angeles Superior Court judge (Case No. BC525856) due to complaints from local residents who say the odors from the facility overwhelm them at certain points of the year. Until the issue is settled, the company won't be able to produce its hot sauce.
"Ever since the news broke, the Internet has been ablaze with Sriracha fans concerned with if they will be able to get the popular hot sauce," said Victor Rey, president of Wristband Connection. "We wanted to provide a unique way for people to show their support for the brand — and what better way to do so than with a custom wristband? The response thus far has been incredible."
The "I Love Siracha" wristband gives Sriracha lovers across the U.S. and around the world the opportunity to profess their love for the spicy sauce. The sauce has become a popular condiment over the past several years in particular, with its bottles that feature its iconic rooster becoming well known by consumers worldwide.
The founder, Vietnamese-born David Tran, has spent the past 33 years building Huy Fong Foods from the ground up. Although his original intent was simply to provide Vietnamese immigrants in Los Angeles with a better hot sauce, Sriracha is now found in many types of foods and is even being used frequently by some of the world's top chefs.
Wristband Connection's I Love Wristbands are completely customizable, allowing customers to create a unique message and choose from a variety of color schemes. The company created this concept based on a desire to give back and allow people to wear customized wristbands that truly reflect who they are and what they believe in, as customers can support a charity of their choice with each purchase.