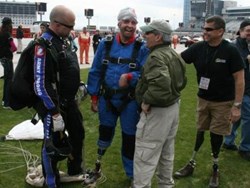 What better way to show all of our wounded warriors that the sky is not the limit.
ORLANDO, FL (PRWEB) December 14, 2013
On December 14th, a large group of Wounded Warriors will leap from airplanes over Start Skydiving Florida as a part of the Florida Wounded Warrior Weekend. This event is hosted by The Wounded Warrior Project, Start Skydiving Florida and the Team Fastrax Professional Skydiving Team, as part of their long-term 'Giving Back' campaign which provides this exciting experience to Wounded Warriors across the United States.
The event takes place above Start Skydiving Florida, located at Orlando North Airpark, 8600 Jones Avenue, Hanger 10 Zellwood, Florida, 32798, on December 14th. Jumps will start in the morning and continue all day. It is open to everyone, so come out and watch as spectators and celebrate these heroes.
Promoted as America's Skydiving Team, Team Fastrax is the only team approved to jump over Ground Zero in New York City, Independence Hall in Philadelphia, Walter Reed Hospital and the Pentagon in Washington, DC. They have taken hundreds of wounded warriors skydiving and performed across the United States and internationally at veteran related venues, including the anniversary of D-Day over Normandy France.
Team Fastrax is comprised of mostly military veterans of the US Marines, Army Rangers, Special Forces and Airborne units. The team has an accumulation of over 300,000 skydives. One member is a double amputee (Retired SFC Dana Bowman) who will participate in each of these performances.
John Hart, owner of Start Skydiving, and founder of Team Fastrax, said, "What better way to show all of our wounded warriors that the sky is not the limit." The event begins with a patriotic jump with US Flags as large as 7,800 square feet. This is the 3rd event in the 'Giving Back' effort, and this time 50+ wounded warriors are participating. All of them will have the opportunity to make a jump at Start Skydiving Florida.
Team Fastrax is sponsored by Selection.com, a leading provider of criminal background checks and pre-employment screening services. They are the most ambitious professional skydiving team in the world. Team Fastrax has performed exhibition skydives all over the world for audiences large and small as a patriotic display or as a product promotion.
For questions or for an interview, contact Gene Newsom with Team Fastrax at gnewsom@teamfastrax.org 812-350-1092.