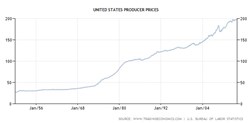 Chicago, IL (PRWEB) December 13, 2013
Peoples Home Equity is proud to announce that Friday, December 13th PPI report was positive for the economy and new home prices. PPI or, producer price index is reported by the U.S. Bureau of Labor Statistics. The index measure producer prices and is viewed as a key measure of inflation. Prospective home buyers should care about this index as properties are made of hundreds is not thousands of good which are influenced by producer prices.
PPI posted a slight decline for November showing a reading of 197.40 vs. 197.50 in October. Despite a minuscule decline, Peoples Home Equity viewed the reading as positive because it did not show an increase. PPI how reached new highs since September 2012 which is significant because PPI has been increasing nearly every year of its recording; as reflected on a 53 year chart, courtesy of TradingEconomics.com. Despite the stock indicies indices rising to new highs reflecting an increase in demand for goods and services PPI has still managed to remain neutral since last year. It's only a matter of time till PPI continues to rise on population growth or increased demand in certain sectors of goods such as housing. Peoples Home Equity expects PPI to increase once the Federal Reserve announces that it will taper its stimulus program. Once the taper occurs, not only will PPI increase, due the cost of goods used to build homes, but so will interest rates.
Peoples Home Equity strongly encourages prospective home buyers to apply and get approved for a home loan now. This is an important step to avoid applying during a period of dramatically rising interest rates which will happen when the Federal Reserve tapers its stimulus program. Home prices are already rising due a shortage of inventory, just imagine how dreadful it would be to miss out on current interest rates by purchase a home at both a higher price and rate.
Please contact Peoples Home Equity loan officer today for mortgage details at: (855)-897-0300