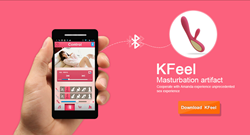 (PRWEB) December 15, 2013
In December 2013, a UK company EFEELINK launched a set of pleasure toys. These new products can help make remote love making come true.
EFEELINK brings a revolutionary breakthrough in love making, and its products can make remote love making come true. With real-time HD video, lovers can remotely control each other. In the use of the toys, a man can change his action and strength, which can be immediately sent to a woman's vibrator. Each part of the toys is equipped with a velocity sensor inside, so that the long-distance lovers can make love via an EFEELINK product.
Many people live alone, and they may feel lonely unavoidably. But this problem can be easily solved by EFEELINK products. These innovative and unique products are perfect for long-distance lovers to make love. Long-distance lovers now can make love with the help of EFEELINK products.
In addition, even as a single, he can also have fun via EFEELINK products. He or she can make friends with anyone via APP, and find a new lover, then start a love journey with EFEELINK products.
About EFEELINK
EFEELINK, a UK company, is devoted to designing and creating innovative adult products based on modern science and technology. The company wants to help its clients worldwide find the right high-quality products to meet their individual sexual desires. Visit http://www.efeelink.com/ for more details.
Follow EFEELINK at:
FACEBOOK: http://www.facebook.com/efeelink
TWITTER: http://twitter.com/efeelink